Charter Arms Proud to Host Second Amendment Rights Figure at NRA Meetings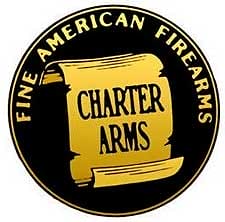 Shelton, CT, -(Ammoland.com)- Charter Arms is proud to support a central figure in today's legal struggle to protect and defend Second Amendment rights in the United States, especially during the upcoming meetings of the National Rifle Association in Pittsburgh, PA,. Dick Heller, a Washington D.C. resident whose 2008 victory in the U.S. Supreme Court affirmed his right to own a firearm in the nation's capital, will be at the Charter Arms exhibition booth #4119 to meet attendees of the NRA Annual Meetings; and to display a commemorative firearm manufactured by the skilled American craftsmen of Charter Arms recognizing the historic Heller decision.
For forty-seven years, Charter Arms has proudly manufactured a full line of revolvers in Shelton, CT, the heart of New England's Gun Valley. Following Heller's victory in the U.S. Supreme Court, Charter Arms president Nick Ecker commissioned a specially engraved and uniquely serial numbered version of its iconic .44 Special revolver, the .44 Bulldog. Each Bulldog is elaborately decorated and specially packaged for discerning firearms collectors with a certificate of authenticity and an engraved knife inside a hardwood and glass display case in a limited edition production aiming to raise funds for continued legal battles in defense of Second Amendment rights. (For details, see http://www.charterfirearms.com/products/Heller.html.)
Charter Arms President Nick Ecker points out, "Heller's victory affirmed the Second Amendment as an individual right, but the fight continues to secure real and practical protection under the Second Amendment. Now he's engaged in another court battle to overcome the District's attempts for onerous licensing requirements and restrictions on modern-designed firearms. Charter Arms supports his continuing fight with funding for the Heller Foundation (http://www.hellerfoundation.org/) and his ally in the fight, the U.S. Bill of Rights Foundation (http://www.usbor.org/)."
Dick Heller will be greeting NRA members and other attendees at the Charter Arms exhibition booth #4119 Friday, Saturday and Sunday from 10 am – 12 pm and 2:00 pm – 4:00 pm during the NRA Meetings Friday, April 28 to Sunday, May 1 at the David L. Lawrence Convention Center in Pittsburgh. Members of the media can secure an interview appointment with both Nick Ecker and Dick Heller, with a call to Lisa Cinquino at (203) 881-8381.
About:
Founded in 1964, Charter Arms manufactures a full line of revolvers made by professional, skilled American craftsmen in Shelton, CT, in the heart of New England's firearm valley. Steeped in rich tradition with unmatched customer service, Charter Arms revolvers are consistently associated with personal protection because of their strength, reliability and accuracy. All Charter Arms revolvers are covered by a lifetime warranty.