Democrat & Republican Politicians Blasting 12 Gauge Shotguns Compete for 'Top Gun'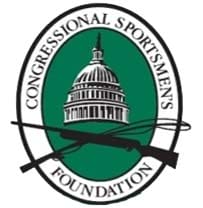 Washington, DC –-(Ammoland.com)- As Democrats and Republicans battle in Congress, members of the Congressional Sportsmen's Caucus (CSC) from both political parties will put partisan bickering aside to unite in the enjoyment of blasting 12 gauge shotguns and learning about issues concerning sportsmen on Tuesday, May 10 at the Prince George's County Skeet Center in Glen Dale, Maryland.
Members of the CSC spend one day per year away from the halls of Congress at the annual bi-partisan Congressional Shoot-Out to enjoy rounds of trap, skeet and sporting clays. Instead of their usual "yeas" and "nays," these politicians spend the day yelling, "Pull!" and recognizing the role of the shooting sports in American life.
"The Congressional Shoot Out is the best opportunity sportsmen have to spend the afternoon with members of Congress, federal officials and industry leaders who care about hunting, shooting sports and the outdoors," said CSF President Jeff Crane.

"We appreciate all the hard work that members of the Caucus put into protecting our interests and traditions in Congress and this event serves to bring all of us together for a common cause."
The annual Shoot is organized by the Congressional Sportsmen's Foundation (CSF) and presented by Alpha Natural Resources, ATK, the National Rifle Association (NRA), and The Outdoor Channel. It pits the Democrats against the Republicans in a friendly skeet, trap and sporting clays shooting competition to determine the top team and top guns in Congress.
At last year's shoot, the team of Democratic CSC members for the second year in a row won the annual bi-partisan Congressional Shoot-Out by a score of 225-209. The top individual Congressional shooters were: Top Gun, Rep. Duncan Hunter of California; Top Republican Gun, Rep. John Kline of Minnesota; Top Democrat Gun, Rep. Mike Thompson of California; Top Skeet Shooter, Rep. Chris Carney of Pennsylvania; Top Trap Shooter, Rep. Dan Boren of Oklahoma, past Co-Chair of the CSC, and Top Sporting Clay Shooter, Rep. Paul Ryan of Wisconsin, past Co-Chair of the CSC.
Limited space is still available, so please contact PJ Carleton for additional information or to book your spot: [email protected] or 202-543-6850 x-22