Brownells' shooting bag rocks the range and knocks the NRA bag out cold
Rolla, MO –-(Ammoland.com)-What's a nice bag like you doing with a zipper like that? Have you ever asked that question of your range bag?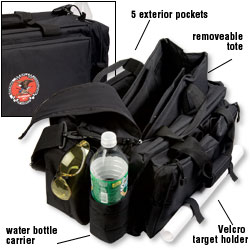 I know I have. Especially after my NRA Pro Range Bag's zipper broke. It's nylon and looks like it belongs on a toddler's windbreaker. In fact, I took the bag to the best alterations lady in the area, who looked at it and tsk-tsked, "I can't believe they put a zipper like this one in this bag." Then, she said she could not get her machine to the base of the zipper to install a new one, because of the zipper's location in the fabric of the bag.
Then, I got in touch with the NRA and because I'd owned the bag for a while, they said I could not send it back for a replacement. So, I have a big, fat range bag that doesn't close. (Also, NRA, my husband's fleece jacket zipper from you did the same thing, and fortunately, the alterations lady could replace that flimsy zipper with a proper metal jacket zipper.)
I believe I have found the perfect bag for my shooting needs. In fact, if I lose this bag or if it ever wears out, I will order another one and pay for next-day shipping. The zipper is the main reason, but there are plenty of other attributes that make this bag worth every penny.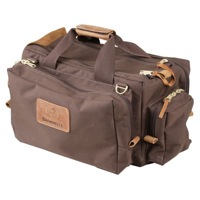 It's a Brownells' Signature Series shooting bag, constructed of 1000 denier, Cordura nylon with non-scratching, self-healing, nylon YKK zippers and solid brass pulls. Top-grain leather straps on the pulls on the "high-use" compartments make it easy to open the bag while wearing shooting gloves, or if you're in a hurry. A detachable shoulder strap is padded with non-slip, suede leather.
The bottom is made of 3/16-inch thick, corrugated panels that provide full support for heavy loads and retains the shape of the bag. It's build to last and comes in dark brown or hunter green. It measures 15″ (38cm) long, 13″ (33cm) wide and 9″ (23cm) high.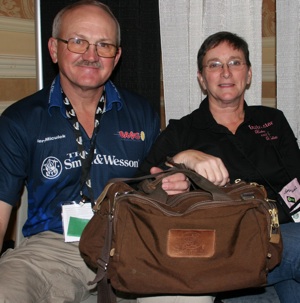 And the zipper? Wow. Brownells' rep Larry Weeks told me that Brownells will not skimp on zippers for their products. He said he hates to see nice bags with bad zippers too, too.
And like everything of great quality, it even looks good as it gets more use. I noticed that shooting star Jerry Miculek carried one of these bags at the SHOT Show. He said he'd owned the bag for about 18 months. Eighteen months on the road and range with Miculek is probably like a lifetime of use for most shooters and the bag looked good – a little worn, but it had aged well.
Jerry revealed that his champion-shooter-wife, Kay, has a bag like it. Well now, that's just another reason to like this bag!
Retail: $ 124.99
The Jury's Decision: Lock up the NRA bag and throw away the key. But the Brownells bag should be allowed free range on any shooting range.
About:
The Women's Outdoor News, aka The WON, delivers news, reviews and stories about women in the outdoors. Born out of a desire to serve the burgeoning outdoor market for women and to inspire as many women to go outside as possible, The WON pops into email in-boxes, RSS feeds and Twitter Feeds with updates during the work week. Visit: www.Womensoutdoornews.com