Meet Members of the USA Shooting Team at the 2011 NRA Show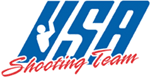 COLORADO SPRINGS, Colo. –-(Ammoland.com)- Members of the USA Shooting Team will be attending the National Rifle Association (NRA) Show in Pittsburgh, Pa., from April 29 to May 1.
BJ Blanchard (Vidor, Texas), Caitlin Connor (Winnfield, La.), Jaiden Grinnell (Port Angeles, Wash.), Jake Turner (Richland, Wash.), Kelsey Zauhar (Lakeville, Minn.) and Sean McLelland (Mission, Texas) will be in Booth #949 to sign autographs.
USA Shooting Team athletes will also make appearances and sign autographs at both the Kimber and Winchester booths. Additionally, show attendees can register to win a 1.4 ounce 24k gold medallion in the USA Shooting Win Gold Program.
Stop by to meet the athletes and enter to win a chance to Win Gold!
About USA Shooting:
USA Shooting, a 501c3 non-profit corporation, was chartered by the United States Olympic Committee as the National Governing Body for the sport of shooting in April 1995. USA Shooting's mission is to prepare American athletes to win Olympic medals, promote the shooting sports throughout the U.S. and govern the conduct of international shooting in the country. Check us out on the web at www.usashooting.org and on Twitter at twitter.com/USAShooting.