Mossberg Showcases 2011 New Products and Hosts World-Renowned Shooters at NRA Convention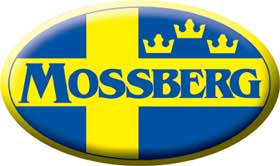 North Haven, CT –-(Ammoland.com)- O.F. Mossberg and Sons, Inc., invites attendees at the 2011 NRA Annual Meeting & Exhibits in Pittsburgh, PA, to visit Mossberg (Booth #1513) for an opportunity to see the latest additions to the company's extensive line of shotguns, centerfire and rimfire rifles.
Convention attendees can also meet world-renowned shooters and Mossberg pro-staffers, Jerry Miculek and Patrick Flanigan.
Miculek will be available each day from 11am – 12pm, while Flanigan will be appearing from 1pm – 3pm on Friday and Saturday and on Sunday, he has two scheduled appearances from 9am – 11am and 2pm to 3pm. Jerry and Patrick will share their tips on competitive and exhibition shooting and tell you why they shoot Mossberg shotguns!
Known as an industry leader in the design and manufacturing of hunting, shooting sports, youth, military and law enforcement firearms, Mossberg has introduced an impressive total of 17 new product lines (over 100 new configurations) for 2011 and NRA members will have the opportunity to see many of these firearms for the first time. The most notable is a limited edition 50th Anniversary 500 shotgun commemorating one of the world's best-selling pump-actions. Also, a first for Mossberg, a dedicated varmint bolt-action rifle chambered in 5.56mm NATO, which is the initial offering in a line of featured-packed varmint and predator rifles, branded as the MVP (Mossberg Varmint Predator) Series.
Other new product introductions for 2011 include the 500 Chainsaw, a series of Tactical Tri-Rail shotguns; Blackwater Series shotguns; Turkey THUG Pump-Action shotguns in partnership with Mossy Oak; Tactical .22 autoloaders; 510 Mini fully camouflaged pump-actions; Maverick HS12 and SA-20 Tactical; short-action offerings in the 4×4 and ATR bolt-action rifle lines; versions of the 500 Cruiser, 500 Persuader, 590A1 and 590 with Tactical Light Forends, featuring Insight technology; 500 Thunder Ranch shotgun; and 4×4 bolt-action rifles in a non-muzzle brake configuration.
Join Jerry, Patrick and the Mossberg team in Booth #1513 throughout the weekend in celebration of our American values and see why Mossberg firearms have earned the reputation of "Field Proven Performance."
About O.F. Mossberg & Sons, Inc.
Founded in 1919, O.F. Mossberg & Sons, Inc. is the oldest family-owned firearms manufacturer in America, and is the largest pump-action shotgun manufacturer in the world. Leading the way with over 100 design and utility patents to its credit, and standing as the first ISO 9001 Certified long-gun manufacturer, Mossberg is considered to be one of the most innovative firearms manufacturers in U.S. History. For more information on commercial, special purpose, law enforcement and military shotguns, rifles and accessories, please visit their website at www.mossberg.com.