Mule Deer Foundation Oregon Chapters Gear Up for Busy Banquet Season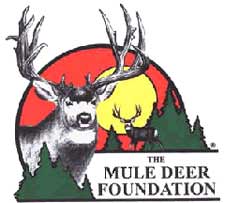 KLAMATH FALLS, Ore. –-(Ammoland.com)- The Mule Deer Foundation (MDF) is expanding its presence in the state of Oregon. This year there will be eight fundraising banquets held across the state.
The first event was held Feb. 19, 2011, in Klamath Falls, Ore. This MDF Chapter is in its 20th year, and banquet attendance included over 350 supporters.
There is an upcoming banquet and youth raffle scheduled for April 23, in Bend, Ore. Tickets are still available. Monies raised from this event are slated for habitat work in the Metolius hunt unit. In May, fundraisers will be held in Christmas Valley, Oregon City and Grants Pass.
The Western Oregon/Eastern Idaho Chapter will host an event July 16. The newly-formed North East Oregon Chapter will hold their first banquet Aug. 6, in Pendleton, Ore. On Sept. 24, the final Oregon banquet of the season will be held in The Dalles, also celebrating their 20th anniversary.
Currently, there are approximately 700 MDF members in Oregon. Over the past couple of years, Oregon chapters have invested over $32,000 in on-the-ground projects. They are on target to obligate over $10,000 this year.
Projects have included such things as adding and repairing fencing, deer collaring to study summering locations, habitat improvement and plantings, purchase of a robotic deer decoy, and numerous guzzler repairs and installations.
Current and upcoming projects include youth programs, a deer telemetry study, purchase of materials for guzzlers, and removal of juniper from highway right of way in an area of high auto/deer collisions.
Become a part of the growing MDF community in Oregon. For more information or to attend an upcoming banquet, contact MDF Regional Director Ken Hand at 541-281-2224 or visit www.muledeer.org.
About MDF (www.muledeer.org)
The Mule Deer Foundation is a national non-profit 501(c)(3) organization with members in every state, as well as Canada and Mexico. MDF's mission is to ensure the conservation of mule deer, black-tailed deer and their habitat. MDF is dedicated to restoring, improving and protecting mule deer habitat (including land and easement acquisitions) resulting in self-sustaining, healthy, free ranging and huntable deer populations; encouraging and supporting responsible wildlife management with government agencies, private organizations and landowners; promoting public education and scientific research related to mule deer and wildlife management; supporting and encouraging responsible and ethical behavior and awareness of issues among those whose actions affect mule deer; and acknowledging regulated hunting as a viable component of mule deer and black-tailed deer conservation.
For information about the Mule Deer Foundation or to join please call 1-888-375-DEER (3337).