Team SIG SAUER Captain Max Michel Jr. Takes Second at USPSA Area 6
Teammate Kepa Kubizaretta captures 1911 Centennial Match title.

EXETER, NH –-(Ammoland.com)- Max Michel, Jr., captain of Team SIG SAUER, brought home a second-place finish at the United States Practical Shooting Association Area in Frostproof, Fla this weekend.
"This was not one of my better match performances," Michel said. "My equipment ran great, but I just didn't find that perfect balance between speed and precision."
Michel earned 1008.5674 points, just 7.2087 points out of the top spot. Last year, Michel began his successful quest to become the first person to win all eight USPSA Area Championships in the same year with a victory at the Area 6 Championship.
Next up for Michel will be the Med Cup in Cheval-Blanc, France, May 9-16.
In Parma, Idaho, teammate Kepa Zubizaretta made his first match as part of Team SIG SAUER a victory in the 1911 Centennial Match at the Parma Rod and Gun Club. His overall score of 178.71 and three stages wins earned him the outright title.
"I picked up my SIG SAUER 1911 a few days before the match and only had the chance to run two magazines through it," Zubizaretta said. "Right out of the box my pistol ran great and was dead on accurate."
To follow Max Michel and Team SIG, visit www.sigsauer.com/TeamSig/MaxMichel.aspx.
Follow Max Michel on Facebook at www.facebook.com/maxmichel.us.
Become a fan of SIG SAUER on Facebook at www.facebook.com/SigSauerInc.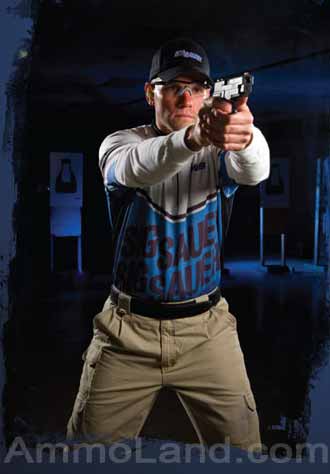 About Max Michel:
By anyone's account, Max Michel, Jr. is one of the premier shooters in the world. With three World Speed Shooting Championships (2009, 2007 and 2005), five USPSA National Championships (2009, 2007, 2006, 2005 and 2004), three U.S. Steel National Championships (2011, 2009 and 2008), 37 USPSA Area Championships, and nearly 100 Major Championship wins, Max Michel has become a dominant force in
the pistol shooting sports. Michel also owns multiple World Speed Shooting records as well as the only Action Shooter to win all USPSA Area Championships in the same season (2010). As an international
competitor, Michel has represented the United States in the last four International Practical Shooting Confederation (IPSC) World Shoots and returned home each time with team gold medals. He will again represent the nation in Rhodes, Greece, at the 2011 World Shoot and anchor the USA's Open Division team.
About Kepa Zubizaretta
New to Team SIG SAUER, Kepa Zubizaretta currently works for a medium-sized police department in the northwest as a patrol officer. He has been shooting all of his life and started shooting competitively in 2005. Since then he has risen to Master Class in both Limited and Production Divisions and holds several state Championships in both USPSA and IDPA in Idaho, Utah, Missouri, and Nevada. He has finished in the top 16 at the USPSA Nationals and has won the Gold Medal at the Western States Police and Fire Games for Individual Handgun Competition. He recently won the USSA ProAM amateur division title and finished this year's match with a stage win in the Pro division. He has traveled across the country each year for numerous USPSA matches and looks to expand his competition to include 3 Gun and IDPA matches.
About SIG SAUER, Inc.
SIG SAUER, Inc. is the largest member of a worldwide business group of firearms manufacturers that includes J.P. Sauer & Sohn and Blaser GmbH in Germany and Swiss Arms AG in Switzerland. This global network of companies gives SIG SAUER a world-class firearms knowledge base, unparalleled design expertise, and extensive manufacturing capacity, enabling the company to respond quickly and effectively to changing market conditions and the needs of its military, law enforcement, and commercial markets worldwide. SIG SAUER is an ISO 9001: 2008 certified company with over 400 employees. For more information on SIG SAUER, any of its products, or the SIG SAUER Academy, log on to www.sigsauer.com.