Atlanta Peregrine Nest Produces Four High-Flying Falcons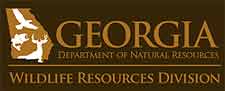 ATLANTA, Ga. –-(Ammoland.com)- Four new falcons will soon be eligible for drafting, riding the air currents that swirl around their high-rise home in downtown Atlanta.
Georgia Department of Natural Resources officials recently examined and banded the four young peregrine falcons in a nest outside the offices of McKenna, Long & Aldridge, 51 floors up in the SunTrust Plaza building.
Law firm chairman Jeff Haidet said the same two falcons have been nesting on the balcony for five years. The number of young this spring only increased his excitement and pride.
"This is the first year that the pair has produced four babies … and it's always a special treat to observe their transition from hatching to flying," Haidet said.
Two or three falcons hatched each of the previous years. Before this pair of parents, peregrines fledged foursomes outside the firm in 1999, 2000 and 2005. The 2011 nestlings will be flying within two weeks.
Peregrines are possibly the world's fastest animal, diving at more than 200 mph to nab pigeons, ducks and other birds in mid-air. The nest at SunTrust Plaza is one of only two confirmed in Georgia. The other is in midtown Atlanta.
Jim Ozier, a program manager with DNR's Nongame Conservation Section, occasionally hears reports that suggest there are other peregrine nests in metro Atlanta. He encouraged residents who see the falcons in pairs or possibly tending a nest in the spring to notify his office, (478) 994-1438 in Forsyth.
Peregrines were removed from the federal list of threatened and endangered species because of a successful population recovery effort, but Georgia still lists the birds as rare. Historically, the only known nest in the state was at Cloudland Canyon in the early 1940s. Peregrines were apparently absent for several years during and after the DDT era.
DNR normally offers a web camera view of the nest at McKenna, Long & Aldridge, thanks to the law firm and a grant from The Garden Club of Georgia. The equipment needs upgrading, and the hope is to re-establish the behind-the-scenes look at Georgia's highest-flying falcons in 2012.
This year's clutch hatched in mid-April. The nestlings leave the nest at about 5 weeks old. Life can be hard for them in metro Atlanta. Hazards vary from traffic to large windows. A peregrine hatched at the firm last year was found days later suffering from trichomoniasis, a parasitic disease of young birds. The falcon was rehabilitated by Kathryn Dudeck of the Chattahoochee Nature Center and released.
Georgians can conserve endangered and other nongame wildlife such as peregrines through buying a bald eagle or ruby-throated hummingbird license plate, or donating directly to the Georgia Nongame Wildlife Conservation Fund. Wildlife plate sales and direct contributions provide vital support for the DNR's Nongame Conservation Section, which receives no state general funds for its mission to conserve wildlife not legally hunted, fished for or trapped, as well as rare plants and natural habitats.
Visit www.georgiawildlife.com for more information, or call Nongame Conservation offices in Social Circle (770-761-3035), Forsyth (478-994-1438) or Brunswick (912-264-7218).