Critical Funds Raised by Mule Deer Foundation for California's Big Game Program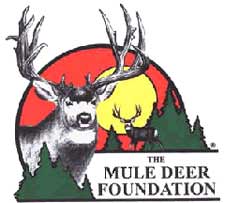 SAN FRANCISCO, Calif. – -(Ammoland.com)- MDF raised $96,500 in 2011 for California's Big Game Program through the sale of several special California fundraising tags.
The Shasta/Lassen Chapter in Redding started things off by auctioning a Golden Opportunity Deer Tag at their banquet for $15,000.
A Desert Bighorn Sheep Tag was sold at MDF's National Convention for $50,000. The North Bay Blacktail Chapter in Santa Rosa followed with the sale of a Statewide Pronghorn Tag for $5,500, and the Central Coast Chapter in San Jose finished up with the auction of another Golden Opportunity Deer Tag for an impressive $26,000.
Every dollar raised from the sale of these tags went directly into the Special Big Game Account held by the California Department of Fish and Game to be used specifically for the benefit of big game species and the hunters who pursue them.
About MDF (www.muledeer.org) The Mule Deer Foundation is one of the key conservation groups in North America working to restore, improve and protect mule deer, black-tailed deer and their habitat. With a focus on science and program efficiency, MDF has raised millions of dollars and put countless man-hours on the ground for conservation and related projects. MDF also acknowledges regulated hunting as a viable management component and is committed to recruitment and retention of youth into the shooting sports and conservation. Get involved at www.muledeer.org or call 1-888-375-DEER.
California Department of Fish and Game (www.dfg.ca.gov/) The Department of Fish and Game maintains native fish, wildlife, plant species and natural communities for their intrinsic and ecological value and their benefits to people. This includes habitat protection and maintenance in a sufficient amount and quality to ensure the survival of all species and natural communities. The department is also responsible for the diversified use of fish and wildlife including recreational, commercial, scientific and educational uses.