Flag Carried Under Command of General George A. Custer on Exhibit at Michigan Historical Museum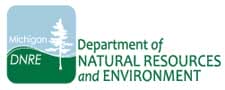 Michigan –-(Ammoland.com)- From May 14 through July 15, visitors to the Michigan Historical Museum in Lansing will have a rare opportunity to see the headquarters flag carried by the Third Division, Cavalry Corps, Army of the Shenandoah while under the command of General George Armstrong Custer.
The silk flag, which is missing its swallowtails, was designed by General Phil Sheridan, who commanded the Army of the Shenandoah. Its owner has loaned it to the museum for display in the "Plowshares Into Swords" exhibit which focuses on life in Michigan during the Civil War.
"Many individuals and organizations hold treasured artifacts, photographs and documents linked to Michigan's role in the Civil War," said Sandra Clark, director of the Michigan Historical Center. "We appreciate their commitment to preserving these treasured reminders of our heritage and their willingness to join us in sharing them with the public during the commemoration of this extraordinary time in our nation's history.
Custer began his Civil War service in 1861 after graduating from the United States Military Academy at West Point. Custer was born in Ohio; however, he and his family settled in Monroe, Michigan, when he was a young man, and he considered Monroe his home. His association with Michigan continued when in June 1863 he was named the commanding general of the newly formed Michigan Cavalry Brigade, which comprised the First, Fifth, Sixth and Seventh Michigan Cavalry Regiments. His fearlessness in battle, his ability to inspire the troops under his command and a long string of victories led to his promotion to commander of the Third Division on September 30, 1864.
While this remarkable piece of history will only be on display for the next two months, visitors are invited to explore the "Plowshares Into Swords" exhibit through Feb. 5, 2012,
The museum is open seven days a week. It is located inside the Michigan Library and Historical Center, 702 West Kalamazoo St., Lansing. The museum and visitor parking are on the north side of Kalamazoo Street, two blocks east of Martin Luther King Jr. Boulevard. Weekend parking is free. For more information, visit www.michigan.gov/museum or call 517-373-3359.
The Michigan Historical Center is part of the Michigan Department of Natural Resources. Its museum and archival programs help people discover, enjoy and find inspiration in their heritage. It includes the Michigan Historical Museum, 10 regional museums, Thunder Bay National Marine Sanctuary and Underwater Preserve, and the Archives of Michigan. Learn more at www.michigan.gov/museum.
The Michigan Department of Natural Resources is committed to the conservation, protection, management, use and enjoyment of the state's natural and cultural resources for current and future generations. For more information, go to www.michigan.gov/dnr.