Georgia RFC Tim Butler Honored With Waterfowl Officer Of The Year Award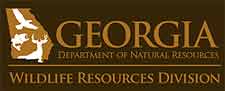 SOCIAL CIRCLE, Ga. –-(Ammoland.com)- The Georgia Department of Natural Resources, Wildlife Resources Division recently honored RFC Tim Butler with the Rocky Wainwright Waterfowl Officer of the Year Award for his outstanding efforts regarding waterfowl conservation over the past year.
Butler is a Conservation Ranger assigned to Bleckley and Pulaski counties. The award is named in memory of Conservation Ranger Cpl. Rocky Wainwright, who was dedicated to the conservation of waterfowl.
"RFC Tim Butler takes pride in both his enforcement of waterfowl laws and regulations as well as his ability to educate the public on the same," says Division Chief of Law Enforcement Col. Homer Bryson. "He is an asset to the Department and the hunting public and has contributed immensely to the success of Georgia's waterfowl management program."
RFC Tim Butler has been with the Division since 2005. Here are some of his accomplishments this past year:
Conducted an impressive 34 waterfowl-related information/education presentations, making contact with more than 1,100 elementary, middle and high school students. During his presentations, Butler introduces students to waterfowl biology, food habits, migration patterns, species identification and hunting laws.
Exhibited ability to be a team player in organizing the observation of hunting areas, including bringing in conservation rangers from many other counties and agents of the US Fish and Wildlife Service.
Conducted multiple morning/evening operations to detect and address illegal hunting activity in Bleckley, Houston, Pulaski and Twiggs counties.
Other conservation rangers nominated for this award include RFC Jeff Phillips of the Southwest Georgia Region, RFC Tim Hutto of the Southeast Georgia Region and RFC Chris Moore of the Coastal Region.
For more information on the Rocky Wainwright Waterfowl Award, call the WRD Law Enforcement Office at (770) 918-6408.