Georgia's Rare Species Profiled On Online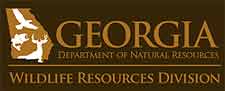 SOCIAL CIRCLE, Ga. –-(Ammoland.com)- Quick: Name the turtle found in Georgia that lures prey using part of its tongue.
Not sure?
How about the Georgia mussel that grows inch-long spines, a blue crayfish known mostly from the Chatsworth area, the shorebird that sports a long orange bill, an endangered plant beleaguered by butterflies or the minnow best identified by its lips?
Answers to these and other questions about Georgia's rare wildlife are found in a new lineup of species profiles at www.georgiawildlife.com. The 403 updated and expanded online accounts detail the identification, habitat use, distribution, ecology and conservation of Georgia's protected species, plus selected rare species considered at risk but not officially protected.
Brett Albanese, a project leader, said the goal is providing a reliable and current source on rare animals and plants that can used by all, from university scientists to middle school students and from biological consultants to landowners and managers. The profiles also feature information from important references such as the Field Guide to the Rare Plants of Georgia by Linda Chafin of the State Botanical Garden.
"We tried to use the best experts to author the profiles," said Albanese, a senior aquatic zoologist with the Georgia Department of Natural Resources' Nongame Conservation Section.
The hope is that the accounts spur feedback that adds to the body of information about each species. Profiles list when they were written or last updated. Readers can report omissions and errors by email.
The profiles stem from the State Wildlife Action Plan, a strategy guiding the DNR and its partners in conserving Georgia's biological diversity. Accounts cover basics such as descriptions and life history, as well as threats, management recommendations and conservation status of the species in Georgia. Photographs and some range maps are included. Guides and glossaries explain structures used in species identification and other technical terms.
Years in the making, the profiles reflect "a vision of protecting the natural environment in Georgia," said Greg Krakow, a project leader and natural resources biologist involved in the effort since its start.
Nongame Conservation Section Assistant Chief Jon Ambrose noted that conservation of many of the species depends on voluntary efforts by private landowners. Ambrose said the accounts offer a new information tool that will hopefully lead to "more occurrences of the species and habitats in better condition because of better management."
Oh, and about that nimble-tongued turtle, it's the alligator snapping turtle. The other answers: Altamaha spinymussel, Conasauga blue burrower, American oystercatcher, Canby's dropwort and fatlips minnow.
The profiles are found at www.georgiawildlife.com/conservation (click "Rare Species Profiles"). For more on the Wildlife Action Plan, see www.georgiawildlife.com/conservation/wildlife-action-plan.
Help conserve endangered and other nongame wildlife through buying a bald eagle or ruby-throated hummingbird license plate, or donating directly to the Georgia Nongame Wildlife Conservation Fund. Wildlife plate sales and direct contributions provide vital support for the DNR's Nongame Conservation Section, which receives no state general funds for its mission to conserve wildlife not legally hunted, fished for or trapped, as well as rare plants and natural habitats.
Visit www.georgiawildlife.com for more information, or call Nongame Conservation offices in Social Circle (770-761-3035), Forsyth (478-994-1438) or Brunswick (912-264-7218).