J Wayne Fears Survival Knife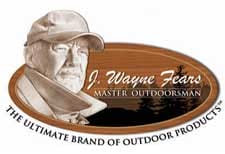 Pottstown PA –-(Ammoland.com)- In uncertain times you can never be too prepared. The best equipped have survival kits that consists of essential items that come in handy during times of crises.
One of the most important items in a survival kit is a survival knife.
Your survival knife needs to be strong, easy to re-sharpen and small enough to carry.
It also needs to be up to the many tasks needed to sustain life in an emergency.
The 9 ¾-inch J. Wayne Fears Survival Knife offers all that and more.
This super strong full tang knife is made from powder-coated, easy-to-sharpen 1095 high carbon steel, has a man-size 4 ¾-inch non-slip ergonomically designed G-10 plastic handle, and an all-purpose 5-inch clip blade. The handle is orange in color for easy location.
The knife comes with a tough black nylon sheath, with safety insert.
In addition to survival uses, this knife is an ideal tool for hunting, camping, hiking and other outdoor activities.
Whether the day calls for digging, shelter making, prying, fire building or cleaning game, this knife can do it all.
For more information, check out www.protoolindustries.net.