John R. Lott Author of More Guns, Less Crime This Week On Armed American Radio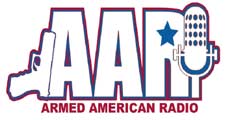 Atlanta GA –-(Ammoland.com)- Fox News Contributor, famed economist and author of More Guns, Less Crime, John R. Lott, Jr. joins host Mark Walters and Armed American Radio in the studio this Memorial Day weekend with special guest Niki Goesser.
Mark Walters and Armed American Radio are proud to host renowned author, Dr. John Lott and Ms. Niki Goesser in AAR's Atlanta, GA. studio this Sunday May 29th, 2011 for the entire three hour broadcast as special guest co-hosts.
"I'm thrilled to share the AAR studio this weekend with Dr. Lott and Ms. Goesser. Both of these extraordinary people have made a huge impact on the right to keep and bear arms. Lott's research proving the failure of gun control has been used by the pro-gun movement for years to debunk the claims of the anti-gun movement and Ms. Goesser's activism following the tragic murder of her husband in a Nashville, TN. sports bar has lead to changes in more than one state's laws. I'm proud to call them both friends and they'll help make the Memorial Day broadcast one of the best programs yet", said Mark.
AAR airs live nationwide every Sunday from 8-11pm ET, 5-8pm PT from the West Palm Beaches of South Florida to the North Slope of Alaska. Each week Mark Walters discusses the right to carry a concealed firearm, training, tips and carry techniques, the politics of the right to bear arms and the responsibility that law-abiding citizens have to carry a firearm for their own defense. The show blends an entertaining mix of nationally recognized guests with hard-hitting discussion about the right to carry a firearm.
For more information and to schedule interviews with host Mark Walters:
Please contact:
Mark Walters
Host
Armed American Radio Network www.armedamericanradio.com
[email protected]
386-AAR-Mark (386)-227-6275
Armed American Radio is syndicated on the Salem Radio Network. For media kit information, please visit www.srnonline.com/talk/talk-walters.shtml
About:
Armed American Radio is the most free-thinking, politically incorrect radio station in the U.S.A. We discuss liberty, self-defense, weapons, family, friends, and life. Visit: www.Armedamericanradio.org