L.W.F.C. Approves Notices of Intent with Amendments for 2011-13 Hunting Seasons and the 2011-12 WMA Season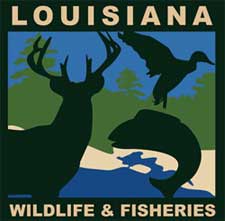 Louisiana –-(Ammoland.com)- The Louisiana Wildlife and Fisheries Commission, during their May 5 monthly meeting, approved two notices of intent (NOI) that included several amendments for the 2011-13 hunting seasons and the 2011-12 Wildlife Management Area (WMA) hunting season.
The amendments adopted as part of the 2011-13 hunting seasons and 2011-12 WMA season NOIs presented to the commission by the Louisiana Department of Wildlife and Fisheries (LDWF) include:
Deletion of the second weekend of either-sex firearm season for deer on Buckhorn WMA.
Adjustment of scheduled dates for the Youth Lottery Deer Hunt on Buckhorn WMA.
Establishing an experimental Quality Deer Season in the following WMAs on the dates specified: Alexander State Forest, Dec. 10-16; Bayou Macon, Dec. 24-30; Big Lake, Jan. 21-27; Bodcau, Dec. 31- Jan. 6; Boeuf, Jan. 14-20; Buckhorn, Jan. 14-20; Camp Beauregard, Jan. 7-13; Dewey Wills, Jan. 21-27; Jackson Bienville, Jan. 7-13 ; Loggy Bayou, Dec. 17-23; Ouachita, Dec. 31-Jan. 6; Pearl River, Jan. 21-27; Pomme de Terre, Jan. 21-27; Red River, Jan. 21-27; Russell Sage, Dec. 31- Jan. 6; Sherburne, Jan. 21-27; Sicily Island Hills, Jan. 14-20; Spring Bayou, Jan. 21-27; Three Rivers, Jan. 21-27; and Union, Dec. 24-30.
Approved use of Type A personal watercraft, model year 2003 and beyond, which are eight feet in length or greater, from April 1 (beginning 2012) until the Monday of Labor Day Weekend, from sunrise to sunset in these areas: Catahoula Lake, Maurepas Swamp WMA, Pearl River WMA, and Pointe-Aux-Chenes WMA. Additionally, no person shall operate such watercraft on these areas at a speed greater than "slow/no wake" within 100 feet of an anchored or moored vessel, shoreline, dock, pier, persons engaged in angling or any other manually powered vessel.
The amendment adopted as part of the General Hunting Rules and Regulations NOI includes:
Extending the Special Youth Deer Season on private lands from two to seven days. In addition, youth will be allowed to use any legal weapon during the Primitive Firearms Season in each deer hunting area.
To view the full notices of intent, as presented Feb. 8 by LDWF, please visit www.wlf.louisiana.gov/action-items.