Louisiana Department of Wildlife and Fisheries Agents Recover The Skin & Head of Black Bear In New Iberia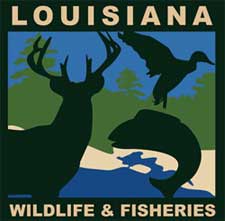 Louisiana –-(Ammoland.com)- Louisiana Department of Wildlife and Fisheries (LDWF) Enforcement Division agents are seeking leads for an illegally killed black bear in the Iberia and Vermilion Parish area.
LDWF agents found a black bear skin and its decapitated head on May 19 off of Daniel Lane near a new subdivision in New Iberia.
Agents believe this bear's skin and head are in connection to an illegally killed black bear that was reported through a public tip over a year ago in the Iberia and Vermilion Parish area. The public's tip indicated someone had shot a black bear and then skinned and stored the bear in a fashion to mount it in the future.
The bear had been apart of LDWF's black bear program and was first tagged in 2000 when it was estimated to be six years old. The passive integrated transponder implanted during the initial capture was left in the hide when the bear was skinned and provided positive identification. LDWF had never received a nuisance call about this older male bear that lived mostly in the Weeks Island area of lower Iberia Parish.
"This is a real shame that someone felt compelled to poach this bear during a time when we are trying our best to restore the Louisiana black bear to a sustainable population," said Maria Davidson, Large Carnivore Program Manager for LDWF.
Anyone with information regarding this illegal bear killing or any other wildlife crime should call the Louisiana Operation Game Thief hotline at 1-800-442-2511. Cash rewards up to $5,000 are offered for information leading to the apprehension of individuals harming a black bear. Callers will also remain anonymous.
"We urge anybody with information about this case to come forward so that we can catch the person responsible for this crime," said Lt. Col. Joey Broussard. "It is believed that the person that dumped these remains of the bear was scared of being caught and thus got rid of the evidence. We are hopeful that through the public's help and our existing evidence that we can solve this case."
The Louisiana black bear has been listed on the Federal Threatened and Endangered Species List since 1992. Citizens are reminded that killing a Louisiana black bear is a violation of both state law and the federal Endangered Species Act. Violators are subject to penalties of up to $50,000 and six months in jail. In addition, a civil restitution fine of $10,000 for the bear may be imposed on anyone convicted of killing a black bear in Louisiana.