Louisiana Operation Game Thief, Inc. Issues Over $3,000 In Rewards To Tipsters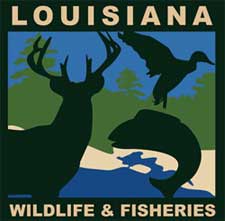 Louisiana –-(Ammoland.com)- Louisiana Operation Game Thief, Inc. (LOGT), a Louisiana wildlife crime-stoppers program, awarded $3,200 to diligent citizens statewide at their quarterly meeting on May 21 at the Booker Fowler Fish Hatchery in Woodworth.
The group approved and dispensed cash reward amounts for tipsters who reported wildlife violations that led to 13 subjects being apprehended in wildlife cases. There were a total of nine cases presented and 33 offenses associated with those cases. The cases ranged from hunting turkey over bait to the illegal selling of fish.
Louisiana Department Wildlife Fisheries (LDWF) Enforcement LOGT Coordinator Sgt. Will Roberts provided LOGT members with information on each case and a recommendation for reward amounts.
"We depend on LOGT and these public tips to help break a lot of cases that might have otherwise gone unsolved," Roberts said. "LOGT provides the incentive for the public to come forward, which is the cash rewards offered for information leading to arrests in these cases."
LOGT was instituted in 1984 and provides cash rewards for information leading to the arrest of violators of fish and wildlife regulations. Funds are raised through private donations, court directed contributions and through contributions from cooperative endeavor agreements with organizations such as the National Wild Turkey Federation and Quality Deer Management Association.
Anyone wishing to report wildlife or fisheries violations should contact an LDWF enforcement agent or call LDWF's 24-hour toll free Operation Game Thief hotline at 1-800-442-2511. Callers may remain anonymous.
Outgoing LOGT Coordinator LDWF Lt. Col. Keith LaCaze, who retired after 34 years of service, was presented a .22 rifle and an outdoor painting in recognition of his service to the organization. The new LDWF LOGT coordinator is Sgt. Will Roberts.
OGT meets quarterly throughout the year to review cases and dispense rewards. The next meeting is tentatively scheduled in August.
For more information, contact Adam Einck at [email protected]