Michigan DNR Announces Partial Closure of North Central State Trail in Cheboygan County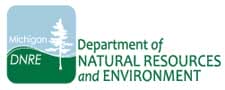 Michigan –-(Ammoland.com)- The Department of Natural Resources today announced that two segments of the North Central State Trail (NCST) are temporarily closed.
The closure is due to washouts of the trail bed caused by Wednesday's excessive rainfall. The closed trail segments are along Mullett Lake in Cheboygan County, between Cheboygan and Topinabee, from Royal Oak Beach Drive north to Liberty Point Drive and then south of Tryban Road.
The Indian River Weather Station reported 1.48 inches of rainfall in five hours on Wednesday. DNR officials said that landowners near the NCST remarked that they haven't seen anything like this in over 30 years.
The NCST is located on old railroad grade between Gaylord and Mackinaw City, and was improved with a new limestone surface in 2007. The water rose over the former grade in several locations, but washed out just two locations. The majority of the compacted limestone trail surface remained in place after the flood waters went down.
Repairs will be completed by DNR staff, and the trail will be reopened as soon as possible. In the meantime, the DNR appreciates the public's cooperation with respect to the barriers on the closed trail segments. Trail users are encouraged to use the NCST trail portions not affected by the rain.
The Michigan Department of Natural Resources is committed to the conservation, protection, management, use and enjoyment of the state's natural and cultural resources for current and future generations. For more information, go to www.michigan.gov/dnr.