Mule Deer Foundation Hires Marty Holmes as Director of Field Operations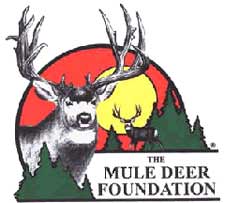 SALT LAKE CITY, Utah –-(Ammoland.com)- The Mule Deer Foundation (MDF) announced today they have hired Marty Holmes to be MDF's new Director of Field Operations (DFO).
"Marty's experience in expanding and improving local chapters, as well as his fundraising and development skills, will definitely benefit our organization," said Miles Moretti, MDF President and CEO.
The DFO position is responsible for supervising MDF's Regional Directors, whose primary duties are to oversee local fundraising events and help make decisions regarding the funding of projects that further the MDF mission.
For the past four years, Marty has been a Field Coordinator with Safari Club International. In that position he oversaw the fundraising efforts of volunteer chapters in eleven states.
Prior to that, he was Director of Field Operations for the Intermountain and Pacific Regions of the Rocky Mountain Elk Foundation. Marty supervised field staff and managed fundraising, development and mission delivery programs for volunteer-driven chapters throughout several western states. He and his wife Angela currently reside near Coaldale, Colorado.
MDF's Chief Operating Officer Eric Tycksen concluded, "The Mule Deer Foundation is one of the fastest growing conservation groups in the country, and Marty's leadership and experience will enable our field operations to keep pace with this unprecedented growth. We are pleased to have Marty become part of the MDF family."
About MDF (www.muledeer.org)
The Mule Deer Foundation is a national non-profit 501(c)(3) organization with members in every state, as well as Canada and Mexico. MDF's mission is to ensure the conservation of mule deer, black-tailed deer and their habitat. MDF is dedicated to restoring, improving and protecting mule deer habitat (including land and easement acquisitions) resulting in self-sustaining, healthy, free-ranging and huntable deer populations; encouraging and supporting responsible wildlife management with government agencies, private organizations and landowners; promoting public education and scientific research related to mule deer and wildlife management; supporting and encouraging responsible and ethical behavior and awareness of issues among those whose actions affect mule deer; acknowledging regulated hunting as a viable component of mule deer and black-tailed deer conservation; and developing programs that focus on recruitment and retention of youth into the shooting sports and conservation.
For information about the Mule Deer Foundation or to join please call 1-888-375-DEER (3337).