Theodore Roosevelt Conservation Partnership Board of Directors Elects New Chair
Katie Distler Eckman assumes leadership of national sportsmen's group.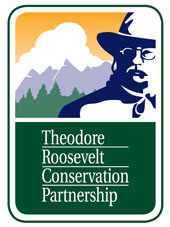 WASHINGTON –-(Ammoland.com)- At its spring meeting, the board of directors of the Theodore Roosevelt Conservation Partnership elected Katie Distler Eckman, a seasoned conservationist with significant experience in the nonprofit and foundation realms, to chair the TRCP board.
"I am honored to lead the Theodore Roosevelt Conservation Partnership during a time that is so critical to conservation in America," said Distler Eckman.

"The strength of this organization, its deeply committed staff and its dedicated board members position us to make major gains in the name of natural resources conservation and hunting and angling. I am thrilled with this opportunity.

"Through our partnerships in the sportsmen's community and our many individual members, the TRCP is effecting conservation policy that benefits fish and wildlife and our outdoor traditions," continued Distler Eckman. "Theodore Roosevelt said, 'The credit belongs to the man who is actually in the arena.' I look forward to sharing the 'great enthusiasm and devotion' of which Roosevelt spoke as I work with the TRCP to address the challenges that lie before us."
A consultant for foundations and nonprofits, Distler Eckman most recently served as executive director of the Turner Foundation, a conservation foundation established by Ted Turner, where she oversaw all aspects of the foundation's giving and developed strategic funding agendas that enhanced the foundation's mission. Before joining Turner, Katie worked for the National Fish and Wildlife Foundation, directing programmatic and financial management of a $35 million conservation grant portfolio. An avid outdoorswoman with a passion for fly fishing, she lives in Winston-Salem, N.C., with her husband and two young children.
Distler Eckman takes the reins as TRCP board chair from longtime board member Jim Martin, a biologist and the former chief of fisheries for the Oregon Department of Fish and Wildlife who currently is conservation director of the Berkley Conservation Institute.
"In taking on leadership of the TRCP board, Katie Distler Eckman brings an exciting new energy to this organization and our conservation policy work," said Martin. "Katie's knowledge of conservation issues and experience with the nonprofit and foundation communities, combined with her love for the outdoors, make her an outstanding guide as we navigate the choppy waters of natural resources policymaking."
"Distler Eckman's strategic approach to conservation funding and natural resources conservation is unsurpassed," said TRCP President and CEO Whit Fosburgh, "and her leadership will enhance TRCP's ability to build the partnerships and promote the policy decisions that ultimately will assure a future for the outdoor legacy that lies at the heart of our national identity."
During its meeting, the TRCP board also voted to name TRCP co-founder Dr. Rollin Sparrowe a board member emeritus. Sparrowe, a former U.S. Fish and Wildlife Service biologist, is a past TRCP board chair and has served the TRCP board since the group's inception.
Learn more about the TRCP and read the TRCP 2011 Conservation Policy Agenda.
About:
Inspired by the legacy of Theodore Roosevelt, the TRCP is a coalition of organizations and grassroots partners working together to preserve the tradition of hunting and fishing. Visit: www.trcp.org