Upchurch Maintains 3 Gun Nation Points Lead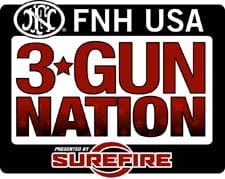 USA –-(Ammoland.com)- Clint Upchurch's fourth consecutive Open division victory kept the South Carolina native alone in first place atop the 3GN Standings following the recent Blue Ridge Mountain 3-Gun at the Rockcastle Shooting Center. But staying in first by himself might not last too long.
Daniel Horner picked up his third match at Blue Ridge, with his Tactical Optics win vaulting the defending 3GN Champion up the leader board into second place.
Kurt Miller, who did not compete at Blue Ridge, remained in the top five at third, while SureFire's Barry Dueck switched to Heavy Metal for a win, moving him to fourth place in front of Bryan Ray, who fell to fifth overall following his second place finish to Dueck in Heavy Metal at Blue Ridge.
Taran Butler, James Darst, Jeff Cramblit, Robby Johnson and Tony Holmes round out a top 10 that features two competitors that didn't qualify for last year's 3GN Championship: Remington's Robby Johnson, who didn't attend enough matches last season; and Ray, the non-sponsored shooter who seemingly came out of nowhere last year and is now tearing up the Heavy Metal division.
Five ladies currently sit among the 3GN Top 50. At #30 overall, Kay Miculek holds the top Lady spot, followed by Maggie Reese (#36), Katie Harris (#41, who is also 3GN's top Junior), Dianna Liedorff (#43) and Deb Cheek (#45).
To view the entire Top 50, click the "Standings" tab found within the "3-Gun Events" listing on the top-right of the page.
The next stop on the FNH USA 3-Gun Nation Tour, presented by SureFire, is the MGM Ironman, June 5-11, in Parma, Idaho.