Stop by Knife Rights Booth at BLADE & you could WIN a $10,000 Knife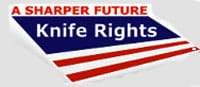 Gilbert, AZ –-(Ammoland.com)- William Henry Studio will give away a $10,000 one-of-a-kind knife to a lucky BLADE Show ticket holder during the 30th Annual BLADE Show June 10-12 at the Cobb Galleria in Atlanta and all you have to do to enter is to stop by the Knife Rights Booth #139.
The one-of-a-kind knife is William Henry's B12 pattern with stunning engraving by Don Patch and a spear-point blade of Hornet's Nest damascus forged by Mike Norris. Diamonds are set into the thumb stud and lock-release button.
Patch's copious scroll engraving is inlaid with numerous "sprouts" of 24k gold and oval scenes on both sides of the handle. The mark side reads "BLADE SHOW" in 24k gold with "30th Anniversary" on a scroll banner. The flip side is a scene of a bladesmith hammering a 24k-gold blade, with 24k-gold "sparks" flying in all directions.
Every BLADE Show attendee is eligible to win the knife. Just stop by the Knife Rights Booth #139 (we're in the row to the left and behind the KA-BAR booth you'll see when you first come into the exhibit hall), fill out an entry form and drop it in the tumbler. The drawing will be the Saturday afternoon of the show at the William Henry booth.
William Henry's Matt Conable explains, "[This knife] will be donated at the show to help our industry organizations spread the word about the challenges we all face as designers, makers, manufacturers, purveyors, collectors, and users of edged tools. We believe it is about all of us, together, working towards a common vision of advancing and protecting our American knife heritage."
While at the Knife Rights booth you can also enter to win the Knife Rights 2011 BLADE Show Fundraising Knife, a custom one-off Rick Hinderer XM-18 worth $3,400 or Join or Renew your Knife Rights membership to be eligible to win some fantastic prizes including knives autographed by Ted Nugent and R. Lee "The Gunny" Ermey, as well as a variety of knives, firearms and other valuable prizes.
Attendees can also enter the 30th Anniversary William Henry Knife Giveaway at the Custom Knife Collectors Association and American Knife and Tool Institute booths, giving you a potential three opportunities to win.
For more information on the giveaway and BLADE Show, visit www.bladeshow.com.
About:
Knife Rights has quickly grown to become America's largest grassroots knife owners organization. Invest in a Sharper Future. Become a Knife Rights member and make a contribution to support the fight for your knife rights. Visit www.kniferights.org