Wisconsin Gun Owner Political News
By Jeff Nass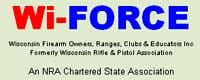 Wisconsin –-(Ammoland.com)- Last weeks NRA/ILA/FORCE events were a great success. All three events were standing room only (including outside the room). Eau Claire and Richfield both had over 200 attendees and Wausau, even with the hearing from Noon to 6 PM, had 175 people, overflowing the room.
We are blessed with four great NRA representatives, National Board of Director Buster Bachhuber, Scott Taetsch our NRA Field Representative, Brent Gardner the Grass Roots Coordinator and Darren LaSorte our ILA Representative.
We are strongly pushing both Permitless Carry and Shall issue.
Both work extremely well together. For those that do not need a permit to carry out of state and do not travel within 1000 feet of any school, permitless carry will work great. For those that do travel out of state or come within 1000 feet of a school, the permit carry will work well. It is important to note that it looks like Michigan will recognize our permit as written. This is important as Michigan requires a permit from the state of your residence. After a long hard fight (10 years) It looks like a bill will pass in June.
Wisconsin FORCE is hosting three additional events. One in Superior, Green Bay and Janesville. We hope to see you all there.
Monday, May 16, 2011 6:30PM – 7:30PM-8:00PM
Ace's on 29th, 2827 Oakes Avenue, Superior, WI 54880
***Space is limited***
Please register by emailing your full name to [email protected]
Tuesday, May 17, 2011 6:30PM – 7:30PM-8:00PM
Stadium View, 1963 Holmgren Way, Green Bay, WI 54304
***Space is limited***
Please register by emailing you full name to [email protected]
Wednesday, May 18, 2011 6:30PM – 7:30PM-8PM
Americas Best Value Inn (Sicily Room), 3900 Milton Avenue, Janesville, WI 53546
***Space is limited***
Please register by emailing you full name to [email protected]
About:
Wi-FORCE promotes and protects the shooting sports, hunting, and the lawful ownership and use of firearms in Wisconsin. We coordinate match schedules of member clubs, sanction the state championship matches, monitor and recommend legislation, and provide training and educational programs for our members, competitors and Wisconsin shooters. Wi-FORCE supports the interaction and education of all individuals and groups interested in the shooting sports and the natural right of citizens to own arms. Visit: www.wi-force.org