Brownells Adds Ammo to Line Up
Takes The Shopping Experience To The Next Level!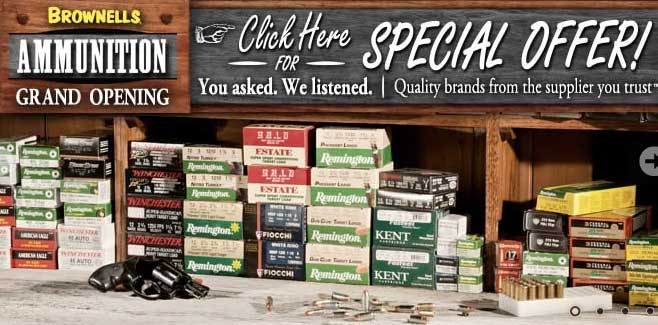 Des Moines, Iowa – -(Ammoland.com)- Brownells proudly announces that the company will carry a full selection of quality, brand name ammunition making it, truly, the place for all of your gun needs.
Brownells, a world-leading, Iowa based distributor of firearms accessories and gunsmithing tools carries rifle, handgun and shotgun ammunition from top manufacturers like Winchester, Federal, Remington, CCI, Hornady, Fiocchi, Ultramax, Kent, Weatherby and many more.
"For years, customers have told us, 'I sure wish you had ammo,' well, we listened. We are offering the highest quality product at competitive prices, all backed by the high level of service Brownells customers have come to expect," said company President Pete Brownell.
Competitive retail pricing plus the qualifying Brownells dealer discount, quick shipping, and Brownells exclusive 100% guarantee and free expert tech help all still apply. Customers can load up all the goodies they need for their latest gun project, add ammo, and get it all conveniently shipped to their front door.
Brownells exclusive 100% guarantee applies to all purchases so customers can rest easy knowing that they can return anything they're not happy with – no questions, no hassles.
Brownells exclusive Ammo Advisor is another industry first. The new tool makes shopping for ammunition online quick and easy. New shooters can use the Ammo Advisor to help them figure out which ammo is right for each application. Experienced shooters can use it to help them see options they might not have considered. Use any or all of the fields and the Ammo Advisor filters the selection based on the shopper's criteria. The selection fields are populated with all the top brands in the calibers shooters use most. Of course, customers can always just head straight for their favorite brands without going through the Ammo Advisor™.
"65% of Brownells customers shoot more than 25 times per year, citing activities ranging from plinking to big game and varmint hunting. We are taking the ammo shopping experience to the next level by offering customers a tool that is user-friendly. It makes shopping for ammo quick, fun, easy and convenient," continued Brownell.
Everything you need to build, customize and now shoot firearms is available at brownells.com.
About:
At Brownells Everything is Guaranteed period! Forever, 100%, with no restocking fees. Brownells is the world's largest supplier of firearm parts, gunsmithing tools, reloading equipment and accessories. Stocking more than 30,000 items, the company supplies armorers, gunsmiths, and shooters worldwide. All of their products are backed by a 100% satisfaction, unconditional, lifetime guarantee. For more information, or to place an order, call 800-741-0015 or visit Brownells.com