LIPSEY'S Enhances Management Team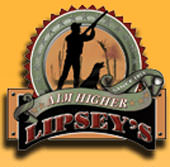 Baton Rouge, LA –-(Ammoland.com)- Lipsey's, LLC is proud to announce the promotion of Garrett Prather to National Sales Manager.
Garrett became a member of the Lipsey's sales team in 2006 and has since taken on additional responsibilities in the area of sales management.
"Garrett was the natural choice for us and we are confident that he will exceed our expectations. Sales are excellent and Garrett will lead our sales team to even greater heights."
Also effective June 1, Lipsey's is pleased to announce that Donald Caillier is now Lipsey's Key Accounts Manager. Don joined Lipsey's in 2002 in the sales department and became National Sales Manager in 2006.
"Don has extensive knowledge and experience in working with national accounts. He is well-known in our industry, has a proven track record and is extremely service-oriented."
Both Garrett and Don are avid hunters and enjoy the outdoors. Garrett was also a former collegiate golfer and Don spends much of his time using his culinary skills as a master chef.
About Lipsey's, LLC
Lipsey's, LLC is a family-owned, wholesale firearms distributor based in Baton Rouge, Louisiana. Since 1953, Lipsey's has been one of the nation's leading distributors, serving customers in all 50 states. Lipsey's has won numerous awards for industry leadership based on their service to their retailers and to their community. Lipsey's prides itself in the relationships they have established with top firearms manufacturers, retailers, and industry organizations.
AIM HIGHER!