Michigan Gun Owner's Frequently Asked Questions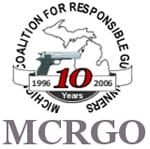 Michigan – -(Ammoland.com)- – Q: What is the penalty for carrying a concealed pistol without a concealed pistol license?
A: MCL 750.227 (2) states: "A person shall not carry a pistol concealed on or about his or her person, or, whether concealed or otherwise, in a vehicle operated or occupied by the person, except in his or her dwelling house, place of business, or on other land possessed by the person, without a license to carry the pistol as provided by law and if licensed, shall not carry the pistol in a place or manner inconsistent with any restrictions upon such license," and goes on to specify a substantial penalty in paragraph (3): "A person who violates this section is guilty of a felony, punishable by imprisonment for not more than 5 years, or by a fine of not more than $2,500.00."
In short, a person who carries a concealed pistol in violation of this section is subject, upon conviction, to a prison term of up to 5 years. Historically, the carrying of a concealed pistol has been punished severely due to the fact that others are not placed on any warning or notice that the individual is armed. Concealment of a pistol was, and is, seen as a criminal act in and of itself, even if no other crime is contemplated or attempted.
The license to carry concealed carries conditions such as completion of a training program that includes relevant legal instruction. Note that no license is required within your own home, on your own land, or in your own place of business.

Q: What am I supposed to do if I choose to eat in a restaurant that serves alcohol while I am carrying my concealed pistol?
A: Assuming that you have a valid CPL (Concealed Pistol License), and that the restaurant is not considered a tavern or bar (defined as an establishment that derives more than half of its income from the sale of alcohol by the glass), the other issue is the rights of private property owner or lessor. If the management of the restaurant has a no guns policy that is communicated to you in any reasonable manner, including signage, verbally etc. then you are trespassing if you carry your pistol on the premises. Private property owners have the right to set conditions on your entry onto their private property; and if you violate those conditions, you are trespassing.
If you choose to drink alcohol, and plan to stay below the .08 BAC level and drive yourself, or plan to ride with a sober driver, you must be sure to store your pistol so that you are not carrying it concealed. Essentially, you must put it in what is commonly referred to as "transport mode."
MCL 28.425k(3) states: "This section does not prohibit an individual licensed under this act to carry a concealed pistol who has any bodily alcohol content from transporting that pistol in the locked trunk of his or her motor vehicle or another motor vehicle in which he or she is a passenger or, if the vehicle does not have a trunk, from transporting that pistol unloaded in a locked compartment or container that is separated from the ammunition for that pistol or on a vessel if the pistol is transported unloaded in a locked compartment or container that is separated from the ammunition for that pistol."
Keep in mind that, according to the same statue, by accepting your CPL, you have consented to a search of your breath, blood, or urine in exactly the same way that you did when you accepted your Driver's License: "(1) Acceptance of a license issued under this act to carry a concealed pistol constitutes implied consent to submit to a chemical analysis under this section." This means that, as long as a law enforcement officer has probable cause, you must submit to such a test for alcohol, or controlled substances. If you refuse, your refusal will be reported to your county gun board and: "(ii) The refusal may result in his or her license to carry a concealed pistol being suspended or revoked."

So, the mere fact that an establishment happens to serve alcohol does not mean that you cannot be armed there. However, you cannot carry your pistol in a bar. And, you cannot drink while carrying. The statute lays out a BAC level of .02, which is best treated as a zero-tolerance standard.
Q: I am a current CPL holder. I bought a new motorcycle this spring and wondered if it's legal to carry my revolver concealed on me while riding the bike. I also wondered if I can store or conceal the revolver in a locked compartment on the bike?
A: So long as you have a valid, Michigan CPL (Concealed Pistol License), you may carry concealed pistols anywhere in the State of Michigan except for those places listed on the "Pistol Free Areas" list in the statute, or private property where the party in control prohibits weapons in general or asks you specifically not to carry there. Note that the intent of the law is that you should lock your gun in your vehicle when you find yourself about to enter a "Pistol Free Area." (NOTE: I use the quotation marks to indicate that the statute uses the term "Pistol Free Area," but only law-abiding citizens are deterred by the rule.) The question of storage is a question of reasonableness. If you have a compartment on your motorcycle that is secure, you should be fine storing your pistol there. However, if the gun falls into the wrong hands, you could potentially face criminal and civil liability. So, be sure that your method and location of storage pass the "sniff test".
Steve Dulan (www.StevenWDulan.com) is a member of the Board of Directors of the MCRGO and the MCRGO Foundation, and a member of the Board of Trustees of the MCRGO Foundation. He is an attorney in private practice in East Lansing and Adjunct Professor of firearms law at The Thomas M. Cooley Law School. as well as an NRA Life Member.
About:
The Michigan Coalition for Responsible Gun Owners is a non-profit, non-partisan organization. Formed from just eight people in 1996, we now have thousands of members and numerous affiliated clubs across the state. We're growing larger and more effective every day.
Our mission statement is: "Promoting safe use and ownership of firearms through education, litigation, and legislation" Visit: www.mcrgo.org