Utah State Representative Ryan D. Wilcox Receive Knife Rights Freedom's Edge Award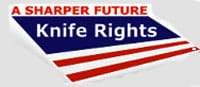 Gilbert, AZ –-(Ammoland.com)- Knife Rights is pleased to announce that Utah State Representative Ryan D. Wilcox is the recipient of its Freedom's Edge™ Award which was presented at the Knife Rights Sharper Future™ Awards Breakfast on June 11th during BLADE Show in Atlanta, Georgia. Rep. Wilcox represents District 7 in Utah.
The Freedom's Edge Award is to be given annually to honor a local, state or national elected representative who has demonstrated their commitment to a Sharper Future by leadership in the fight to protect or enhance our knife rights.
Representative Wilcox is recognized for his leadership in sponsoring Knife Rights' Knife Law Preemption Bill in Utah. After hearing about the patchwork of knife ordinances throughout Utah, Representative Wilcox introduced Knife Rights' knife preemption legislation. Rep. Wilcox worked tirelessly with his colleagues, local advocates and our lobbyist to ensure the bill passed with overwhelming majorities in both houses of the Utah legislature. Rep Wilcox successfully prevented hostile amendments which would have gutted the bill and saw it through to final passage.
His efforts enacted a strong preemption law which will protect knife owners from senseless local ordinances well into the future.
Rep. Wilcox's leadership made it possible for Utah to become the second state in the nation to enact Knife Law Preemption. The Freedom's Edge Award represents a Sharper Future™ for all knife owners.
Preemption prevents the creation of, or eliminates, a patchwork of ordinances and rules which serve to confuse or entrap those traveling within or through the state.
A person traveling in a state without preemption laws could be charged with a violation of local law when they have no intention of violating the law. Preemption ensures citizens only have to know and abide by state law.
About:
Knife Rights (www.KnifeRights.org) is America's Grassroots Knife Owners Organization, working towards a Sharper Future for all knife owners. Knife Rights is dedicated to providing knife owners an effective voice in public policy. Become a Knife Rights member and make a contribution to support the fight for your knife rights. Visit www.kniferights.org