William Henry Donates $10,000 Knife
William Henry makes and outstanding donation to further our knife heritage and recognize the Blade Show's 30th Anniversary.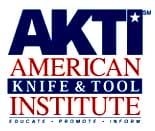 William Henry Studio recognizes the importance of protecting our American knife heritage and continues to support the American Knife & Tool Institute's (AKTI) efforts to advocate for the knife industry and entire knife community.
In another generous gesture of support for the American Knife & Tool Institute and other organizations, William Henry Studio has donated an outstanding one-of-a-kind engraved knife commemorating the Blade Show's 30th annual event.
Valued at $10,000, the William Henry B12 pattern was engraved by Don Patch in a stunning leaf and 24k gold pattern with "Blade Show 30th Anniversary" engraved on one side and a bladesmith at the anvil on the other. The spear-point blade was forged by Mike Norris of Hornet's Nest Damascus. Single diamonds are set into the thumb stud and lock-release button.
This stunning knife will be given away to a lucky Blade Show attendee the Saturday drawing at the William Henry Studio booth. Visit the American Knife & Tool Institute's booth #162 to enter your chance to take it home. Every Blade show attendees is eligible to win and can enter the drawing at the AKTI booth, and also the Custom Knife Collectors Association's and Knife Rights' booths.
Absolutely no purchase is required to enter the drawing and you can enter at each of the three organizations.
William Henry Studio has been a premier member of AKTI for over five years and helped fund AKTI's fight during the 2009 U.S. Customs issue with the donation of a limited series of 10 knives. This series was quickly sold and brought close to $10,000 to the AKTI Legislative Fund.
AKTI congratulations the Blade Show on the achievement of thirty years of serving as the place each year to see the newest and finest knives available. And, we thank William Henry Studio for its ongoing support and believing that we all need to work together to protect our American knife heritage.
ABOUT: The American Knife & Tool Institute is the knife industry and knife community's advocate ensure that Americans will always have the right to buy, sell, make, own, carry and use knives and edged tools.