Win a Free Hawke Riflescope at NRAhuntersrights.org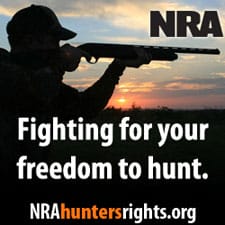 Fairfax, VA--(Ammoland.com)- During the month of June, visit www.NRAhuntersrights.org for a chance to win a Hawke Varmint SF 6-24×44 1/2 Mil Dot riflescope—the perfect optic for long-range hunting and shooting.
To achieve the extreme accuracy required by varmint hunters and long-range shooters, Hawke's Varmint SF scopes feature a precise, smooth-operating side focus wheel, ensuring a crisp, parallax-free sight picture at all distances.
The reticle is a newly developed ½ Mil Dot design (compatible with Hawke's free online Ballistic Reticle Calculator) with additional aim points between every dot for increased precision.
Hawke's ½ Mil Dot reticle is designed to be exact at 10X magnification and features multiple aim points for hold-over or hold-under, allowing compensation for long- and close-range shots.
The all-new optical system features fully multi-coated lenses with a 44mm objective lens, enhancing brightness, clarity and low-light performance. In addition, low, non-intrusive, BDC (bullet drop compensating) turrets (1/4 MOA) allow 'dialing' for long-range shots, and a streamlined fast focus ocular makes the scope easy to mount on rifles with large bolts.
Other features include Hawke's waterproof, shockproof and fog proof design; all-weather grips; zoom thumb bump; and Hawke's worldwide warranty. Free to one lucky entrant, this scope retails for $199.
For more information on Hawke's Varmint SF riflescopes, as well as the company's full line of hunting and shooting optics, visit www.hawkeoptics.com.
TO ENTER the June Gift Giveaway, visit www.NRAhuntersrights.org, scroll down to "Gift Giveaway" on the right side of the homepage, and follow the simple entry instructions. There is no cost to enter. Entries will be accepted now through June 30, and a winner will be announced July 1 on www.NRAhuntersrights.org.
About:
For the most up-to-date information about your hunting rights there's just one source: www.NRAhuntersrights.org.