Armed American Radio Adds Two More Affiliates this Sunday July 17th 2011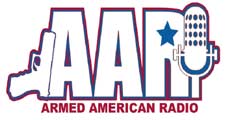 Atlanta GA –-(Ammoland.com)- Mark Walters and Armed American Radio announce the addition of two more affiliates carrying the wildly popular nationally syndicated radio broadcast.
Beginning Sunday July 17th, AAR will now be heard on KSBN 1230 AM, Spokane, WA and KFPW AM 1230. Both stations will carry the entire 3-hour live broadcast.
According to syndicated host Mark Walters, "The addition of KSBN in Spokane, WA as well as KFPW in Ft. Smith, AR brings Armed American Radio to the majority of residents of both states. With the continued exceptional growth of the radio broadcast nationwide, I believe it's safe to say that Americans who choose to carry a firearm for self-defense now have a place to call home on their radio dials ".
AAR airs live nationwide every Sunday from 8-11pm ET, 5-8pm PT from the West Palm Beaches of South Florida to the North Slope of Alaska. Each week Mark Walters discusses the right to carry a concealed firearm, training, tips and carry techniques, the politics of the right to bear arms and the responsibility that law-abiding citizens have to carry a firearm for their own defense.
The show blends an entertaining mix of nationally recognized guests with hard-hitting discussion about the right to carry a firearm.
For more information and to schedule interviews with host Mark Walters:
Please contact:
Mark Walters
Host
Armed American Radio Network www.armedamericanradio.com
[email protected]
386-AAR-Mark (386)-227-6275
Armed American Radio is syndicated on the Salem Radio Network. For media kit information, please visit www.srnonline.com/talk/talk-walters.shtml
About:
Armed American Radio is the most free-thinking, politically incorrect radio station in the U.S.A. We discuss liberty, self-defense, weapons, family, friends, and life. Visit: www.Armedamericanradio.org