Champion Traps & Targets Unveils VisiColor Zombie Targets
Bringing Vivid Images & Thrills to the Range.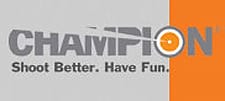 ONALASKA, Wis. –-(Ammoland.com)- Champion Traps & Targets announces new VisiColor Zombie Targets.
Shooters will be blasting these new targets at Outbreak Omega 4, a zombie-themed shoot in Morristown, MN on July 9.
Look for these striking targets to arrive on store shelves before Labor Day weekend.
.
Vivid Options Make Shooters Engage and React
Champion's new VisiColor Zombie Targets are reactive, engaging and provide instant feedback. VisiColor technology indicates different shot zones with different colors. Bright radiation green color indicates hits to zombie vital zones. Body shots deliver fluorescent yellow reactions. Misses and accidental hits to hostages and background areas appear white.
Champion's proprietary ultra-visibility printing technology nearly brings these back-from-the-dead creatures to life. Movie-quality imagery enables "Eddie the Executive" and his freaky friends appear like they are walking right up the shooting alley. Impressive appearances take zombie realism to the next level and help separate these technologically-advanced targets from the competition.
A Variety of Options to Improve Accuracy
These 12-inch by 18-inch targets feature large shooting areas and stunning zombie images. Eight different targets provide a unique assortment of zombie foes in different situations—which makes blasting these moaning creatures a fun and ever-changing task.
Targets are available in two different 6-pack options with three separate target designs each. Two different 50-count bulk packages are also available. Shooting scenarios and images range from hostage situations and door breeches to zombie street attacks.
Shooters preparing to stop the next zombie apocalypse now know where to turn for unmatched realism—Champion's VisiColor Zombie Targets.
To search through Champion's entire lineup of traps, targets, eye and ear protection and shooting gear, please visit www.championtarget.com.
Part No. Description
46050 Zombie Variety 6-Pack – Hostage
46052 Zombie Variety 6-Pack – Attack
46080 Zombie 50-Count Bulk Pack – Door Breech
46082 Zombie 50-Count Bulk Pack – Street Attack
About Champion
Champion is a leading provider of quality trap throwers, paper targets, metal targets, clay targets, hearing and eye protection and shooting systems. For more information please visit www.championtarget.com.