Congressional Sportsmen's Foundation Briefs Congress on Government Litigation Savings Act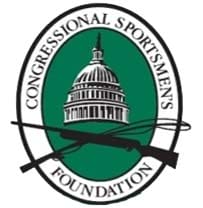 Washington, DC –-(Ammoland.com)- The Congressional Sportsmen's Foundation (CSF), in conjunction with the Congressional Sportsmen's Caucus (CSC) and Boone & Crockett Club, today briefed members of the CSC on legislation that would prevent abuse of the Equal Access to Justice Act (EAJA) by large environmental groups and others who have exploited a loop hole in EAJA, and through round-robin litigation financially supported their organizations and built large internal legal departments to sustain and perpetuate continuing litigation.
The Government Litigation Savings Act, or H.R. 1996, introduced by CSC Rep. Cynthia Lummis and S.1061, introduced by CSC Sen. John Barasso, would reduce taxpayer's burden to pay for attorney's fees, and returns EAJA to its original intent by instituting targeted reforms on who is eligible to receive EAJA reimbursements, limiting repeated lawsuits, and reinstating tracking and reporting requirements to make EAJA more transparent.
EAJA was passed in 1980 and gave a blank check to federal agencies and the Department of Justice to reimburse people for their attorney's fees when they have sued the government, or defended against a wrongful government action. EAJA served its purpose reasonably well throughout the 1980's, but began a downward spiral in 1995 when all tracking and reporting of these payments stopped.
"Today our goal was to educate CSC members on how EAJA has been hijacked and how this negatively affects the hunting and angling community," said CSF President Jeff Crane.

"We are also looking to generate more support in Congress for these bills that would return EAJA to its original intent and keep frivolous environmental lawsuits from tying up fish and wildlife management in court."
CSC House Co-Chair Rep. Jeff Miller and Vice-Chair Rep. Heath Shuler welcomed attendees while Sen. Barasso, Rep. Lummis along with Lowell Baier, President Emeritus of Boone & Crockett Club spoke on the need to revise the EAJA through H.R. 1996 and S.1061, respectively.
"When the government stopped tracking EAJA payments in 1995, it was a dream come true for radical environmental groups. Lack of oversight has fueled the fire for these groups to grind the work of land management and other federal agencies to a halt — and it does so on the taxpayer's dime. Americans have unwittingly funded these obstructionist political agendas for far too long at the expense of individuals, small businesses, energy producers, farmers and ranchers who must pay out of their own pocket to defend the federal government against relentless litigation," Lummis said. "This common sense legislation would help restore integrity to EAJA and return the program to the original intent of Congress."

"For far too long, special interest groups have funded their anti-multiple use agenda with Americans' hard earned taxpayer dollars," said Barrasso. "It's absolutely absurd that Washington pays outside groups to repeatedly sue our government. It's time to halt the endless cycle of reckless lawsuits and fix this broken system. Our bill will protect taxpayer dollars and restore accountability and transparency."