Fall Turkey Hunters Reminded of Reduced Quota in Michigan Upper Peninsula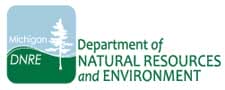 Michigan –-(Ammoland.com)- As the Aug. 1 deadline for fall wild turkey hunting license applications nears, the Department of Natural Resources reminds Upper Peninsula hunters that the quota for licenses was cut dramatically this year.
"For the last few years Upper Peninsula fall turkey hunters have been able to purchase leftover licenses over the counter," said DNR upland game bird specialist Al Stewart.

"But with the reduction in the quota from 4,000 licenses to 1,500, there may not be many – if any – leftovers available this fall."
Fall turkey season runs from Sept. 15 to Nov. 14 statewide. Fall turkey hunters are allowed to harvest a bird of either sex. The Upper Peninsula quota was cut this season to assure enough hens survive into the spring breeding season.
"The Upper Peninsula wild turkey population is large enough to warrant a fall season, but we want to take a conservative approach to make sure we maintain a robust population," Stewart said. "If you don't apply for a license, you could find yourself left out."
The Michigan Department of Natural Resources is committed to the conservation, protection, management, use and enjoyment of the state's natural and cultural resources for current and future generations. For more information, go to www.michigan.gov/dnr.