Fire Displaces Los Alamos Bears
Displaced Los Alamos Residents Encounter Displaced Bears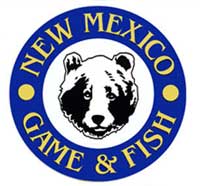 LOS ALAMOS, NM –-(Ammoland.com)-The Las Conchas fire displaced the residents of Los Alamos, and now that they're returning home from a forced evacuation they are encountering a number of displaced bears.
The Department of Game and Fish and the Los Alamos Police Department have agreed to distribute Living With Large Predator brochures to residents of Los Alamos who are reporting the influx of animals to the community.
The highly mobile nature of black bears is making it impossible to determine how many bears are in town at this time.
"The natural food supply in the Las Conchas Fire area has been reduced by this fire, and the bears are on the move looking for food," said Shawn Carrell, Cuba District Wildlife Officer for the Department of Game and Fish. As often happens with or without forest fires, bears turn to eating trash and garbage when natural foods are not available.

"We are asking the residents to remove anything that may attract bears like bird feeders, outdoor pet food, and trash," Carrell said. "This will encourage these bears to move on and locate themselves back in the forest away from town."
Only one bear has been euthanized due to injuries experienced in the Las Conchas Fire, the Department reported Tuesday. It was an average-sized female found off State Route 4 near the Valles Caldera, not far from where the state's largest blaze started.
For more detailed information on how to keep bears alive and you safe, please visit the Department of Game and Fish website at www.widlife.state.nm.us and click on the publications tab in the top-left corner of the page. If you have any questions regarding this or any other Department issue, please contact the Albuquerque office at (505) 222-4700.