20 Students Participate in First Louisiana Department of Wildlife and Fisheries Summer Camp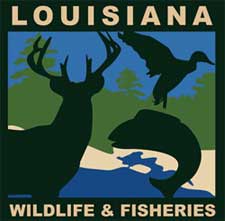 Louisiana –-(Ammoland.com)- The Louisiana Department of Wildlife and Fisheries (LDWF) held their inaugural Summer Camp from July 18-22 at the Waddill Outdoor Education Center in Baton Rouge for children 12 to 16 years old.
The camp was completely free of charge and participants were able to receive their official LDWF boater and hunter education certifications.
The camp was split up between class room work and outdoor activities that consisted of fishing and canoeing in the ponds at the Waddill Outdoor Education Center, skeet shooting, air rifles, archery and casting practice.
"The camp was a great success and well received by the kids and their parents. The department will definitely sponsor more camps for next summer since we had such a great demand and response for this first one," said LDWF Secretary Robert Barham.

"Since most classes for boating and hunting education are done in one day, this camp allowed for a lot of extra time during the week for the kids to get hands on experience and guidance on a number of outdoor activities."
The camp was open to the first 20 children that registered who did not already have a boater or hunter education certificate. The following kids completed all five days of the camp and received their boating and hunting education certifications:
Tyler Irvin, 12, of Gonzales; Jordan London, 12, of Baton Rouge; Taiylar DeMoss, 12, of Baton Rouge; Devon Regira, 12, of Geismar; Darren Ficklin, 12 of Geismar; Colton Strain, 12, of Clinton; Chance Truett, 13, of Baton Rouge; Scott Sugasti, 13, of Barataria, Daniel Sant, 13, of Baton Rouge, Cade Hood, 12, of Walker; Emma Gordon, 15, of Baton Rouge, Jeffrey Ragusa, 13, of Gonzales; Alexander Williams, 12, of St. Gabriel; Mac Prudhomme, 13, of Baton Rouge; David Johnson, 14, of Baton Rouge; Jamey Jacocks, 16, of Geismar; Jacob Jacocks, 15, of Geismar; Hunter Rube, 15, of Baton Rouge; and Cedric Brown Jr., 13, of Thibodaux. Sari Sant, 15, of Baton Rouge, received her hunting education certificate, but had to leave the camp early and missed the boating education portion.
On the final day of the camp, LDWF held a skills challenge consisting of skeet shooting, archery, canoeing obstacle course, fish identification test, casting and fishing contests to determine which two campers would win lifetime hunting and fishing licenses. The Louisiana Wildlife Agents Association (LWAA) donated lifetime hunting and fishing license went to Ficklin. Sugasti won the lifetime hunting and fishing license donated by the Louisiana branch of the Coastal Conservation Association (CCA).
The LWAA and Louisiana Wildlife and Fisheries Foundation provided a daily lunch free of charge for the five-day summer camp. Cabela's in Gonzales also donated a rod and reel combo set that each child received to upon completion of the camp. CCA also had volunteers on site and gave each student a CCA membership.
The boating education course is mandatory for anybody born after Jan. 1, 1984 to operate a motorboat in excess of 10 horsepower. The course includes information on choosing a boat, classification, hulls, motors, legal requirements and equipment requirements. The course also covers many navigation rules and charts, trailering, sailboats, canoeing, personal watercraft and more.
The hunter education course is mandatory for anyone born on or after Sept. 1, 1969, who plans on purchasing a hunting license. The hunter education curriculum includes sections on ethics and responsibility, wildlife management, firearms and ammunition, safety in the field, wildlife identification and wildlife conservation. The major objectives of the hunter education programs are to reduce the number of hunting accidents, improve the image of hunting through ethical and responsible conduct and promote the shooting sports.