Planning a Hunt Consult PETA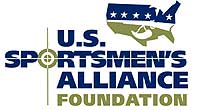 Columbus, OH –-(Ammoland.com)- If you are looking for future hunting opportunities, you might take a look at some odd recommendations by an unlikely source– PETA.
On the groups' website are their lists of common pests that hunters can –or do—pursue.
On this PETA pest and problem species list are: beavers, geese, deer, raccoons, bears, coyotes, ducks, prairie dogs, mountain lions, foxes, and wolves.
Ok, most state game departments do not recognize most of those species as pests, but someone forgot to tell PETA. In fact only prairie dogs make the standard recognized pest species. One right answer out of a dozen guesses by PETA is not very accurate.
And if you are looking for a place to hunt, PETA also notes that "… hunting is permitted in many wildlife refuges, national forests, and state parks, and on other public lands." Thanks, PETA, for helping hunters everywhere plan great summer, or future, hunt.
About:
The U.S. Sportsmen's Alliance is a national association of sportsmen and sportsmen's organizations that protects the rights of hunters, anglers and trappers in the courts, legislatures, at the ballot, in Congress and through public education programs. Visit www.ussportsmen.org.