Sentry Solutions' Hi-Slip Grease & Tuf-Cloth Now In Convenient, Heavy-Duty Jars
New Mini-Jars for Popular Gun Protection Products Keep Lubrication Right at Your Fingertips.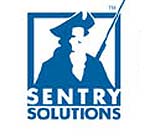 WILTON, NH –-(Ammoland.com)- Sentry Solutions Hi-Slip Grease™ and TUF-CLOTH™ are now available in easy-twist, heavy-duty, mini-jars keeping the popular firearms lubricants and protectants airtight and convenient whether stored on your retail shelf, work bench or in your range bag. The new jars are more durable and resistant to accidental cutting or puncturing when stored in a gunsmithing box.Sentry Solutions Hi-Slip Grease lubricant in jar
HI-SLIP GREASE is a synthetic blend containing the finest micro-bonding lubricants available. Applying a light coat on metal surfaces will prevent galling and corrosion even under high load and extreme conditions. The HI-SLIP GREASE can be easily applied using a Q-Tip, applicator stick or by dipping small metal parts into the jar which allows parts to be easily positioned and held in their location; making assembly easier. Small springs and bearings can be virtually impossible to hold in position without using HI-SLIP GREASE.
HI-SLIP GREASE reduces friction and protects from -65°F to 650°F as tested by the Navy SEALs from the deserts of Kuwait to the Bering Strait. Once a thin coat is applied to any metal surface including titanium, stainless steel or aluminum, the concentrated formula of molybdenum disulfide will smooth tight actions for an easier lock up, lighten triggers and protect choke tube threads while making them easier to tighten and remove. Non-toxic HI-SLIP GREASE eliminates wear while enhancing performance and reliability for all firearms in the harshest conditions. It inhibits corrosion from salt water, powder residue, sweat and moisture on all types of metal. MSRP is $11.25 (Product Code 91051) for the 56 grams/2 ounce jar. HI-SLIP Grease is also available in a syringe applicator.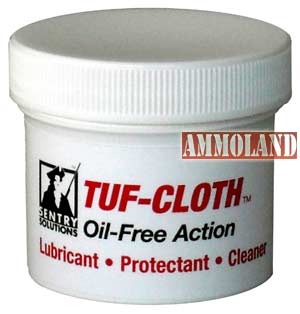 Sentry Solutions Tuf-Cloth Oil Free Action in jarTUF-CLOTH, the 12"x12" lint-free, re-usable cloth has been providing protection superior to any oil or silicone products for firearms since 1990. The oil-free, bonded shield guards against moisture; including extreme conditions and environments, without attracting dust, dirt and debris. Now packaged in a Sentry Solutions heavy-duty, mini-jar, the TUF-CLOTH is portable, stackable, and easy to open and reseal keeping the TUF-CLOTH effective for hundreds of uses. TUF-CLOTH works by applying a water-displacing, micro bonded crystal barrier that protects against rust, friction and wear in any condition, for all of your firearms and metal equipment. MSRP IS $8.95 (Product Code 91011). TUF-CLOTH is also available in a re-sealable foil pouch.
Tested and used by NAVY SEALs and other branches of the U.S. Military and endorsed and recommended by over 40 manufacturers, Sentry Solutions products can be found at your local retailer or online at www.sentrysolutions.com
About Sentry Solutions:
Sentry Solutions, was incorporated in 1993. Since then, Sentry Solutions has developed dry lubrication products used by the U.S. Military Forces, government agencies, state and local law enforcement agencies as well as hunter, sportsmen, and mariners. Sentry Solutions' Tuf-Cloth™ and Tuf-Glide™ products have become the benchmark in cleaning and protecting firearms and sports equipment worldwide. www.sentrysolutions.com