Team SIG SAUER's Max Michel, Jr., Finishes Second at Pro-Am Championship
All-steel speed match combines fun, fast shooting for pros and amateurs alike.

EXETER, NH –-(Ammoland.com)- SIG SAUER Team Captain Max Michel, Jr., once again showed his mastery of speed and steel with his second-place finish at the fourth-annual Pro-Am Championship over the weekend.
Held in Frostproof, Fla., the Pro-Am Championship has become one of the more popular matches among competitors and spectators alike. Similar to a drag race, the scoring of the all-steel match is simple: Who ever knocks down the most targets within the par time wins.
"It's just a fun match to shoot," Michel said. "Being a top shooter himself, Phil Strader (match director) knows how to keep the atmosphere light but still be competitive."
With a score of 240 targets down, Michel was a mere seven plates from the top spot. Michel won five of the eight stages.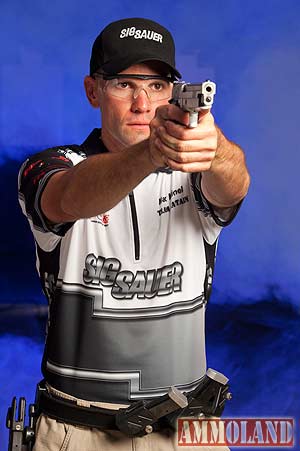 Next up for Michel is the United States Practical Shooting Association Area 3 Championship, held August 11-14 in Grand Island, NE. Michel is the defending Overall champion.
Become a fan of SIG SAUER on Facebook at www.facebook.com/SigSauerInc.
To follow Max Michel, Jr. and Team SIG, visit www.sigsauer.com/TeamSig/MaxMichel.aspx.
Follow Max Michel, Jr. on Facebook at www.facebook.com/maxmichel.us.
About Max Michel, Jr.:
Max Michel, Jr., is one of the premier shooters in the world. With three World Speed Shooting Championships (2009, 2007 and 2005), five USPSA National Championships (2009, 2007, 2006, 2005 and 2004), three U.S. Steel National Championships (2011, 2009 and 2008), 37 USPSA Area
Championships, and nearly 100 Major Championship wins, Max Michel, Jr., has become a dominant force in the pistol shooting sports. Michel also owns multiple World Speed Shooting records as well as the only Action Shooter to win all USPSA Area Championships in the same season (2010). As an international competitor, Michel has represented the United States in the last four International Practical Shooting Confederation (IPSC) World Shoots and returned home each time with team gold medals. He will again represent the nation in Rhodes, Greece, at the 2011 World Shoot and anchor the USA's Open Division team.
About SIG SAUER, Inc.
SIG SAUER, Inc. is the largest member of a worldwide business group of firearms manufacturers that includes J.P. Sauer & Sohn and Blaser GmbH in Germany and Swiss Arms AG in Switzerland. This global network of companies gives SIG SAUER a world-class firearms knowledge base, unparalleled design expertise, and extensive manufacturing capacity, enabling the company to respond quickly and effectively to changing market conditions and the needs of its military, law enforcement, and commercial markets worldwide. SIG SAUER is an ISO 9001: 2008 certified company with over 400 employees. For more information on SIG SAUER, any of its products, or the SIG SAUER Academy, log on to www.sigsauer.com.