Bowhunting – Up Close and Personal
Courtesy of the U.S. Sportsmen's Alliance.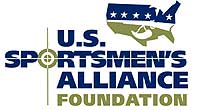 Columbus, OH –-(Ammoland.com)- With fall days sweeping across much of North America, it's the time when hunters everywhere think of two related topics: archery and white-tailed deer.
Generally, archery seasons are a relatively new concept with many being created by state game departments during the 1950s and 60s.
Today, an estimated 9 million Americans participate in archery, and many of those are bowhunters.
Increasing whitetail deer numbers have meant more hunting opportunities—and sometimes more controversy. The deer numbers have grown across America thanks to conservation, wildlife management, and increased interest by hunters and landowners. Hunting areas and seasons have expanded thanks to the work of the U.S. Sportsmen's Alliance and sportsmen nationwide to defend hunting through Congress, the courts and legislatures coast to coast. Today, every state offers an archery hunting season—and with that, many reasons to grab a bow and some arrows, and head afield.
The Basics
Bowhunting is a "back-to-the-basics" adventure. Once you have a bow and arrows, you are nearly ready to go hunting. Most hunters also add sights, a release aid, quiver, silencers, stabilizers, a rest—and other gear to their bow. Others utilize more traditional equipment which is mainly a recurve or longbow with few add-ons.
Additionally, you will need broadheads, practice points, a backstop, and possibly a treestand or blind. To be certain that you have and use the proper arrows for your bow and archery plans, select the proper arrow. More details are at: www.eastonarchery.com/download/selectioncharts. Then, after some practice and refining your proficiency at given distances, you'll need to turn your attention to hunting areas and the animals you wish to hunt.
Deer motivate approximately 90% of the U.S. hunting market expenditures, and most bowhunters have visions of whitetails and mule deer in their minds. Of course, you can also hunt bear, elk, pronghorns, wild boar, turkeys in some states, and small game species, like squirrels, with your bow. In numerous states, archery licenses are affordable and available over-the-counter.
If you do want to improve your archery skills or learn more about bowhunting, consider joining an archery league, shooting at a 3-D course, or taking a state game department bowhunter education course. Some state's might offer special youth hunts in case you have a young bowhunter seeking a place to go hunting.
Bowhunting success often comes to those who take the time to learn their bow and gear, the fine details about the animal they hunt, and their personal limitations. As a rule, bowhunting requires that hunters get within 30 to 40 yards of the animal.
The good news is that many bowhunting seasons are open when the weather is warm, fall leaves are colorful, and deer are often on the move in search of acorns and other foods or when they are in mating season. Well-worn game trails can reveal the best places to hang a treestand, place a store purchased blind, or build your own blind, and settle in for your wait.
The Future
While anti-hunting and animal rights organizations have worked to stop or curtail bowhunting mopportunities, the U.S. Sportsmen's Alliance has worked to protect bowhunting—and expand opportunities. The USSA was the leader in creating the Bowhunting Rights Coalition in 2005 that brought together some of the nation's premier hunting organizations to defend against anti-archery legislation in several states. In recent times, the Coalition has helped open Sunday bowhunting seasons and other opportunities.
About the USSA:
The U.S. Sportsmen's Alliances watchdog efforts protect the rights of hunters, anglers and trappers in the courts, legislatures, at the ballot, in Congress, and through many public education programs. The USSA has more than 150,000 registered Sentries that regularly receive information about conservation issues, and then they actively work to promote and protect scientific conservation through calls and contacts. For more information about the U.S. Sportsmen's Alliance and the Sentry program, call (614) 888-4868 or visit: www.ussportsmen.org.