California Launches Fish and Wildlife "Strategic Vision" Effort
COHA Asked to Present to Executive Committee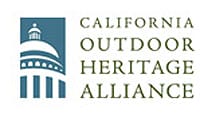 SACRAMENTO, CA –-(Ammoland.com)- In June, the California Resources Agency launched the implementation of the "California Fish and Wildlife Strategic Vision".
The effort, mandated by AB 2376 (Huffman) which passed in 2010, is intended to reevaluate the long-term mission and priorities of the Department of Fish and Game and the California Fish and Game Commission.
Among other things, AB 2376 required the Secretary of the Natural Resources Agency to convene an Executive Committee (EC) made up of specified representatives, and for the EC to appoint a Blue Ribbon Citizen Commission (BRCC) charged with assisting the EC and working with a Stakeholder Advisory Group to develop the Strategic Vision.
Nearly one month later, on July 21st, the BRCC held its first public meeting to gather input from agency and other experts in the fish and wildlife field. At the request of "Vision" staff, COHA President, Bill Gaines, gave a presentation to the Commission regarding the importance of considering the needs of hunters and anglers when outlining the future of the State's fish and wildlife management.
During the 2010 Legislative Session, COHA successfully sought amendments that require the Strategic Vision process to consider recreational and commercial harvest of fish and wildlife and ensure that hunters and anglers have a seat at the table. The Fish and Wildlife Strategic Vision Executive Committee will hold its next public meeting on August 10, 2011 at the State Capitol. COHA staff will again be in attendance.
For more information on the Strategic Vision process, including information on its upcoming meetings, visit www.vision.ca.gov
About:
The California Outdoor Heritage Alliance (COHA) is a partnership of conservation organizations, outdoor industry, other related interests and individuals who support science-based wildlife management and the preservation of our hunting rights in California. COHA is a 501(c)4 Political Advocacy organization dedicated solely to influencing legislative, regulatory and administrative policy decisions which promote wildlife conservation and our outdoor heritage. For more information about COHA, visit www.outdoorheritage.org.