California Outdoor Heritage Alliance Hosts Ninth Annual California Legislature Outdoor Sporting Caucus Shoot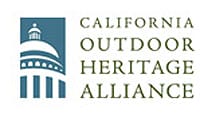 SACRAMENTO, CA –-(Ammoland.com)- On August 23rd, California Outdoor Heritage Alliance (COHA) staff spent a day in the field with members of the California Legislature Outdoor Sporting Caucus, Legislative staff and other policy-makers at the Cordova Shooting Center near Sacramento.
The annual event, which is hosted by COHA, drew nearly 130 attendees. Delta Waterfowl was again the lead funder of the event serving as the Platinum Sponsor of this popular shoot, and the National Wild Turkey Federation continued their long-time support of the event as a Gold Level Sponsor.
The shoot is intended to educate California's lawmakers about the safe use of firearms, while providing an enjoyable shooting experience. Activities included both trap and skeet shooting – a mainstay of the event – as well archery for this first time ever. Participants were also treated to a delicious BBQ dinner.
Special thanks to the Department of Fish and Game's Hunter Education Instructors for providing safety information and instruction, along with the California Bowman Hunters/State Archery Association for setting up the archery range. COHA would again like to thank our Platinum Sponsor Delta Waterfowl, and Gold Sponsor National Wild Turkey Federation. Special note is also warranted for the event's Heritage Sponsor California Waterfowl, and two Silver Sponsors, National Shooting Sports Foundation and Platinum Advisors.
The following also provided valued assistance and partnership for this event: Federal Ammo/RCBS, National Assembly of Sportsmen's Caucuses, California Deer Association, Rocky Mountain Elk Foundation, NRA-ILA, California Rifle and Pistol Association, U.S. Sportsmen's Alliance, California Correctional Peace Officers Association, Wilderness Unlimited, and Cordova Shooting Center.
To learn more about the California Legislature Outdoor Sporting Caucus, please visit California Legislature Outdoor Sporting Caucus website.
About:
The California Outdoor Heritage Alliance (COHA) is a partnership of conservation organizations, outdoor industry, other related interests and individuals who support science-based wildlife management and the preservation of our hunting rights in California. COHA is a 501(c)4 Political Advocacy organization dedicated solely to influencing legislative, regulatory and administrative policy decisions which promote wildlife conservation and our outdoor heritage. For more information about COHA, visit www.outdoorheritage.org.