Custom Firearms – This Week On Gun Talk Radio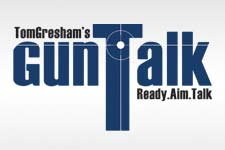 Mandeville, LA -(Ammoland.com)- It's 30 years of custom ammunition and firearms and a trip to Toledo, this week on Tom Gresham's Gun Talk (R) Radio, the original nationally-syndicated radio talk show about guns and the shooting sports.
Tom travels to Toledo, Ohio, this week, where he will broadcast Gun Talk Radio live from Cleland's Outdoor World, a major retail outlet in the region. Cleland's is in the midst of a grand re-opening after suffering a fire months ago. Listeners in the area are encouraged to come by the store Sunday to meet Tom. More info on Cleland's can be found at www.clelands.com.
MG Arms, Inc. is a family-owned business that began by making custom ammunition in 1980, then added custom firearms, including their CK-4 AR-15, the K-Yote varmint rifle and a light-weight, single-action pistol named the Dragonfly.
Owner Kerry O'Day visits Gun Talk to discuss the company and their products. Information on MG Arms can be found at www.mgarmsinc.com.
Also, Gun Talk has teamed up with Liberty Safe to give away a Franklin 25 gun safe! The Grand Prize winner not only wins the safe, but the deluxe accessory door panel and free delivery as well. Fifteen First Prize winners each week will win a Liberty Safe lighted baseball cap. Enter to win through August 26th at www.guntalk.com/contest.
About:
In its 16th year of national syndication, Tom Gresham's Gun Talk Radio airs live on Sundays from 2PM-5PM Eastern, and runs on more than 120 stations, plus on XM (Ch. 165) Satellite Radio. All Gun Talk shows can be downloaded as podcasts at http://www.guntalk.libsyn.com and Apple iTunes, or through one of the available Apps: the Gun Talk iPhone App, the Blackberry Podcast App, the Android App and the Gun Talk App for Android on Amazon. More information is available at http://www.guntalk.com.