Get Top Cleaning Performance and Protection with the New Hoppe's BoreSnake Venom Cleaner and Oil
Overland Park, Kan. –-(Ammoland.com)- Hoppe's, makers of renowned gun care products for more than 100 years, has introduced the new BoreSnake Venom Cleaner and BoreSnake Venom Oil with T3.
The new BoreSnake Venom products provide some extra bite, making the world's quickest bore cleaning system faster and more effective.
Specially formulated to complement the patented design of the Hoppe's BoreSnake, Venom Gun Cleaner helps removes more carbon and other fouling than ever before.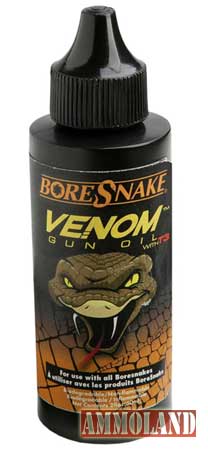 Hoppe's unique formula deeply penetrates the pores of the bore while cleaning carbon, copper and lead fouling and conditioning the bore to repel fouling.
The BoreSnake Venom Gun Oil is formulated with a special T3 additive that contains liquid molybdenum and liquid PTFE, a synthetic substance with the lowest coefficient of friction known to man. The oil's thin coat technology will not separate or breakdown and provides long-lasting corrosion protection while withstanding temperatures ranging from -40 degrees to 320 degrees Fahrenheit.
BoreSnake Venom Gun Cleaner and Gun Oil with T3 are biodegradable, nontoxic and odorless and available in 2 oz. and 4 oz. bottles. The Venom Gun Cleaner retails at $8.95 and $11.95 respectively, and the Venom Gun Oil retails at $7.95 and $13.95 respectively.
To learn more about the BoreSnake Venom product line, visit the product pages online – BoreSnake Venom Cleaner and BoreSnake Venom Oil with T3. For information about Hoppe's and its complete line of gun care products, visit www.hoppes.com or call 1-800-423-3537.
Bushnell Outdoor Products is a global manufacturer and marketer of branded consumer products based in Overland Park, Kansas. Bushnell Outdoor Products sells its products worldwide under the Bushnell®, Tasco®, Serengeti®, Bollé®, Uncle Mike's Law Enforcement®, Stoney Point®, Hoppe's®, Butler Creek®, Cébé®, Uncle Mike's®, Final Approach®, Simmons® and Millett® brand names. For information about any of these brands or products, please contact Bushnell Public Relations at (913) 752-6105.