Mule Deer Foundation Gaining Ground & Recognition in Washington State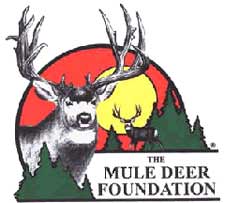 SPOKANE, Wash. –-(Ammoland.com)- The Mule Deer Foundation (MDF) is taking a strong hold in Washington.
The six chapters that are currently organized in the state hold annual fundraising banquets to raise money for the conservation of mule deer, black-tailed deer and their habitat.
Through MDF's unique Chapter Rewards Program, a portion of the money raised can be allocated by local committee members for projects within the state.
In addition to putting money towards local conservation projects, MDF members donate their time and talents for on-the-ground projects.
Activities have included habitat clearing, guzzler installations and more.
The Inland Empire Chapter out of Spokane was awarded MDF's Sweat Equity Award last year for donating almost 500 hours of labor. This chapter was also awarded the Arrasmith Conservation Award by the Inland Northwest Wildlife Council (INWC). The INWC is the oldest and largest local non-profit wildlife conservation group in Washington. The Arrasmith Award is presented to organizations that have made a significant contribution to the enhancement of wildlife and habitat.
The Mule Deer Foundation has a long history in Washington. Two chapters, the Yakima Chapter and the Skagit Valley Chapter in Mt. Vernon, have been in existence for over 15 years. Three more chapters, in Wenatchee, Winthrop and Spokane, have been raising money and working to improve local habitat for over a decade.
If you are interested in becoming a part of this growing community, plan to attend one of the upcoming Washington banquets. The Columbia Basin Chapter will hold their annual fundraiser on Sat., Aug. 13, in Moses Lake.
The Okanogan County Chapter will host an event in Winthrop on Sat., Aug. 20. For more information, contact Regional Director Ron Knapp at 360-708-0898 or [email protected]
About MDF
The Mule Deer Foundation is one of the key conservation groups in North America working to restore, improve and protect mule deer, black-tailed deer and their habitat. With a focus on science and program efficiency, MDF has raised millions of dollars and put countless man-hours on the ground for mission-critical projects. MDF acknowledges regulated hunting as a viable management component and is committed to recruitment and retention of youth into the shooting sports and conservation. Get involved at www.muledeer.org or call 1-888-375-DEER.