Revision Shooter Max Michel Sets New Stage World Record
Takes Home Second Place At 2011 Steel Challenge World Speed Shooting Championships.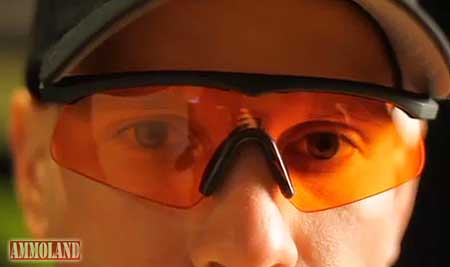 Essex Junction, VT –-(Ammoland.com)- Max Michel, champion shooter for Revision, may have come in second at this past weekend's Steel Challenge World Speed Shooting Championships, held in Piru, California August 18-21, 2011, but it didn't stop him from setting new World Records.
Michel set the new World Record during the Roundabout (Stage 2) with four runs totaling 7.96 seconds, during which Michel drew his pistol four times and hit 20 total targets.
"Capturing another World Record is an amazing accomplishment," commented Michel. "To think that my scores are the best in the 30 year history of the Steel Challenge is an honor when you look back at the legends that came before me and the quality of shooters today."
Michel placed second in Open Division with 82.34 match points. As the match wrapped up, he reflected on the news of the changing venue for the annual match,
"As the 30th Anniversary comes to an end, I realize this will be my last time competing in Piru, CA for the World Speed Shooting Championship. Piru is where the history of the Steel Challenge is and it will never be the same. I will miss all the great memories that we had here but look forward to the new memories that will be made on the East Coast next year and beyond."
Michel will next be competing in the 2011 EGW Area 8 Championship, held at the Fredericksburg Rod & Gun Club in Fredericksburg, VA September 1-5, 2011.
ABOUT MAX MICHEL
In 2010, world champion shooter Max Michel joined forces with Revision in a partnership founded on mutual performance excellence. At age 29 Max Michel is a legend in the world of competitive shooting. A three-time World Speed Shooting Champion, five-time USPSA National Champion, three-time US National Steel Champion and 2010 US IPSC National Champion, Max is a dominant force in the pistol shooting sports. Born and raised in New Orleans, Max joined the famed U.S. Army Marksmanship Unit (USAMU) Action Pistol Team in 1999 where he served for 10 years as an Army shooter and trainer. Today, Max is recognized worldwide as a top tier athlete in the practical shooting sports and Revision is proud to be Max's eyepro brand of choice – both on and off the range.
Follow Max Michel on Twitter at twitter.com/Max_Michel.
Become a fan of Max Michel on Facebook at www.facebook.com/maxmichel.us.
ABOUT REVISION
Revision develops and delivers purpose-built protective equipment for military use worldwide. The company, which began with eyewear, has expanded to face and head protection and continues to develop their capabilities for integrated, performance-enhancing soldier systems. To that end, Revision brings the most advanced expertise, state-of-the-art facilities and finest technical minds. Clients include the U.S. Department of Defense, the Canadian Department of National Defence, the Netherlands Defence Materiel Organization, the Swiss Federal Department of Defence and the UK Ministry of Defence. Privately owned and ISO 9001:2008 certified, Revision's operational headquarters is located in Essex Junction, Vermont, USA, with additional offices in the Netherlands and Canada. For more information, visit www.revisionmilitary.com, write [email protected], or call +1 252-288-5805.
Become a fan of Revision on Facebook.