Steel Challenge Officials Announce Additional Gold And Silver Sponsors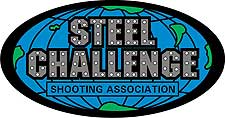 BURLINGTON, Wash. – The Steel Challenge Shooting Association (SCSA) has announced six additional gold sponsors, and the silver level sponsors, for the 2011 Steel Challenge World Speed Shooting Championships being held this weekend in Piru, California.
ADCO, Atlanta Arms & Ammo, Browning, Chiappa Firearms, Colt and GLOCK, along with previously announced gold sponsors Cheaper Than Dirt!, Springfield Armory and Vang Comp Systems, are among the more than 70 firearms and firearms accessory manufacturers supporting the annual speed shooting match.
"As the Steel Challenge celebrates its 30th anniversary, companies throughout the firearms industry have joined in the celebration of one of the shooting sports' crown jewel competitions. Since 1981 the Steel Challenge has enjoyed tremendous industry support as evidenced by the overwhelming support the 2011 match is receiving," said Tammy Mowry, Steel Challenge sponsor coordinator.
In addition to the six newly named gold sponsors, match officials announced the 18 silver level sponsors. The silver sponsors are Action Target, Brownells, Blackhawk Products Group, CCI/ATK, Competition Electronics, CZ-USA, Ergo Grip, Gemini Sport Marketing, Hornady Manufacturing, Kahr Arms, Pistol Dynamics, Remington, Rudy Project, SBR Ammunition, Surefire, Vihtavuori-Lapua, Wilson Combat and Winchester.
Organized by the Steel Challenge Shooting Association, the national governing body for the sport of speed shooting, the Steel Challenge World Speed Shooting Championships celebrates its 30th anniversary and it's final year in Golden State as the match moves to Florida in 2012.
For more information on the Steel Challenge World Speed Shooting Championships and the Steel Challenge Shooting Association, visit www.SteelChallenge.com, follow @SteelChallenge on Twitter, find the Steel Challenge on Facebook (www.facebook.com/SteelChallenge) or visit the Steel Challenge blog (www.steelchallenge.posterous.com/).