Winchester Improves Iphone App To Include Shotgun, Handgun And Rimfire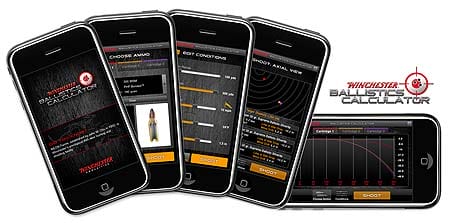 East Alton, IL – -(Ammoland.com)- Two years ago, Winchester Ammunition introduced the world to the Ballistics Calculator at Winchester.com.
Now the program that made a breeze out of calculating shot placement
is improved for iPhone and iPod Touch users.
The original version of the Winchester Ammunition Ballistics Calculator for the iPhone and iPod Touch allowed users to choose centerfire rifle ammunition and compare up to three different Winchester cartridges with easy-to-read, high-tech ballistic charts and graphs.
You could customize shooting conditions by entering wind speed and outside temperature and adjusting zero marks for sighting in.
Now the ballistics calculator has been improved to also help users to discover aiming points, impact points and trajectories for rimfire, shotgun slug and handgun hunting ammunition – just in time for fall hunting season.
"Our customers were impressed with the original ballistics calculator for centerfire rifles, but they wanted more," said Brett Flaugher, Winchester Ammunition vice president of marketing and sales. "We listened to the great feedback we received and now the Ballistics Calculator is improved for millions of iPhone and iPod Touch users."
To download the Winchester Ammunition Ballistics Calculator for the iPhone and iPod Touch, visit www.winchester.com/ballistics.
With a heritage dating back to 1866, the Winchester brand was there for the taming of the American West, the Allied Forces' victory in World War II and through the years, millions of fond memories made in the great outdoors. Known as The American Legend™, Winchester Ammunition is a global leader in sporting, law enforcement, military and personal defense ammunition production. Winchester continues to raise the bar with new products like Blind Side® waterfowl and PDX1™ Defender™ personal defense ammunition.
For more information about Winchester Ammunition, visit www.winchester.com, or connect with The American Legend on Facebook at Facebook.com/WinchesterAmmunition.