Conservation, Education and Entertainment the Focus at the EPIC Outdoor Game Fair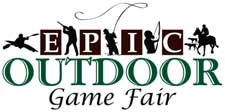 Tucson, Arizona –-(Ammoland.com)-  While fun in the great outdoors will be a centerpiece of the EPIC Outdoor Game Fair, the event will shine a spotlight on the conservation and education leadership of hosts Safari Club International Foundation (SCIF) and Quail Unlimited (QU) and their conservation partners.
The event will feature displays of conservation organizations including the Rocky Mountain Elk Foundation, Ducks Unlimited, Scholastic Shooting Sports Foundation, as well as SCIF's Sensory Safari, and the Georgia Department of Natural Resources' two-hour Hunter Education review course.
In addition there will be numerous seminars, shooting demonstrations and appearances by authorities from across the outdoor industry. The EPIC Outdoor Game Fair will run September 23-25, 2011 at Foxhall Resort and Sporting Club in Douglasville, Georgia.
"With so many great hands-on activities at the EPIC Outdoor Game Fair, participants will have so much fun they won't even realize they're learning," said Joe Hosmer, President of SCIF. "Without sharing a conservation ethic and educating people about fish, wildlife and the natural world, we can't expect to foster a love for the outdoors or our sporting traditions. That's the real goal of this event."
Conservation and education are a key part of the EPIC Outdoor Game Fair because proceeds from the event support Safari Club International Foundation's (SCIF) efforts to promote science–based conservation through wildlife research, capacity building in governments, youth and teacher education, and humanitarian programs that show the importance of hunting in society. Since 2000, SCIF has provided $47 million to these efforts and recent expenditures have exceeded $5 million annually. SCIF works very closely with many other conservation organizations and many of these partners will also be hosting displays in The Conservation Pavilion at Game Fair.
Educational seminars will go on throughout the weekend in every one of the activity villages. The Georgia Department of Natural Resources (DNR) will be offering a two-hour Hunter Education course on Sunday, September 25 from 12:30 to 2:30 pm. This 2-hour review course is for hunter education students that have successfully completed either the CD-ROM course or any of the three online courses. Scott Linden will present his popular Bird Hunting Boot Camp, Bill Oyster will be teaching participants how to construct their own custom bamboo fly rod, C.J. Buck of Buck Knives will provide information about knives and their care, and G.O. and Haley Heath of Family Traditions will offer insights on our outdoor traditions. In addition, the Georgia DNR will offer seminars on backyard birding and the snakes of Georgia. EarthQuest's Birds of Prey village will have regular seminars on falconry and raptors. The Equestrian Village will be constantly busy with demonstrations of various riding disciplines and clinics by top instructors including renowned hunter and equitation trainer, Anna Mullin, and competitors such as Jessie Kuka, world record holder in cowboy mounted shooting.
At the shooting village, there will be instruction by National Sporting Clays Association instructors as well as demonstrations from some of the best shooters in the country. Mossberg's Red White & Proud Tour featuring Xtreme Sport Shooter Patrick Flanigan will provide fast-paced shooting excitement. Also shooting each day will be Benelli's Scott Matthews, an amazing freestyle shooter known as "The Sure Shot."
There will be so much to do and see at the EPIC Outdoor Game Fair that the entire family will be kept busy and learning all weekend long. Time is running out to buy your discounted tickets that are only available online. Go to the EPIC Outdoor Game Fair website (www.epicgamefair.org) to buy them today. As a thank you to our troops serving our nation, active military personnel will receive the same online discount onsite when they present their identification.
Get regular updates on the event blog, EPICGameFairBlog.org, Facebook, Facebook.com/EPICOutdoorGameFair and Twitter, Twitter.com/EPICGameFair.
Safari Club International Foundation (SCIF) is a 501(c)(3) charitable organization that funds and manages worldwide programs dedicated to wildlife conservation, outdoor education, and humanitarian services. Since 2000, SCIF has provided $47 million to these causes around the world. Visit www.safariclubfoundation.org for more information.

Quail Unlimited is the oldest national, nonprofit conservation organization dedicated to the management of America's wild quail. Known as "America's Leader In Quail Conservation SM," QU's overall vision is to restore America's quail populations for future generations. The organization's core values include the wise stewardship of our land and its resources, and the continuation of our proud heritage of conservation, therefore, leaving a legacy and firm foundation for our youth and families to build upon.