Eliminate Hunting & Shooting Travel Hassles
Don't Let Laws, Regulations and Airline Security Ruin Your Trip.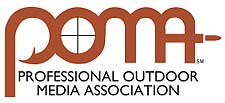 JOHNSTOWN, PA –-(Ammoland.com)- Sorry sir, you can't take that trophy rack on board; and the fee to put it in cargo is $150.
Ma'am, this gun case does not meet airline standards, we can't check it. Nope, you cannot bring that firearm back into the U.S.
The U.S. Travel Security Administration (TSA) says regulations are strictly enforced. Violations can result in criminal prosecution and civil penalties of up to $10,000 per violation. Each airline/country also has its own rules and regs.
What should you do? Act like a Boy Scout. Be prepared so you don't find yourself in one of these positions or worse.
During a live, webinar series called Masters of the Outdoors Webinars, Sept. 20, at 2 p.m. Eastern time, North American Hunting Club Executive Director Bill Miller will teach you how to eliminate travel hassles. You'll even have a chance to ask Bill questions.
Attend the Master Outdoorsman Webinar Series: Presented by the Professional Outdoor Media Association
REGISTER NOW – Limited Participation
Here's a sample of what attendees will learn:
The most important thing to know about bringing guns back into the U.S.
Five measures to help ensure you and your guns/ammo, end up in the same place
The best travel gun cases
How to book hunting travel (airlines, hotels, etc.)
Tips for traveling with trophies and meat
Traveling with hunting dogs
Requirements for traveling with ammunition
The heaviest focus of the webinar will be on airline travel and crossing borders. However, many tips also apply to interstate travel in private vehicles.
REGISTER NOW – Limited Participation
Register at: http://professionaloutdoormedia.org/node/3037
For more information, visit: http://www.professionaloudoormedia.org
About:
POMA (www.professionaloutdoormedia.org) is considered the premier, international, professional communications organization in the shooting, hunting, fishing and trapping industries. Its more than 320 media members are renowned editors, writers, photographers, broadcasters and publishers. In addition, the 140-plus industry firms and organizations who are Corporate Partner members share POMA's focus on serving the outdoor press corps, developing the next generation of outdoor journalists and perpetuating the traditional outdoor sports.