Giving Something Back – Kids and Hunting
By J.R. Robbins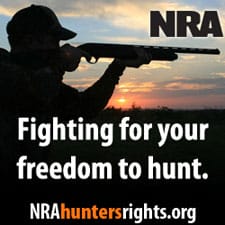 Fairfax, VA--(Ammoland.com)- A great many people in the outdoor industry are trying to get kids into hunting.
National organizations with distinguished boards are holding summits, creating websites, raising funds, forming task forces, studying demographic surveys and writing mission statements.
Then there are guys like Bill Crutchfield, a fireman from Charles County, Maryland. He wants to do the same thing all those groups want, but he does it a different way.
He finds kids and takes them hunting. He doesn't have a budget. Or a staff. Or a website.
What he has is fervor to make sure kids get a chance to hunt.
Crutchfield is well known for taking the biggest nontypical whitetail ever killed on the East Coast – a Boone and Crockett-certified, 268-1/8-inch behemoth he shot in 2006.
"Shooting a buck like that changes your life, makes you want to give something back to the outdoors," Crutchfield said.
To give something back, he came up with the idea of the Young Guns Hunt Club—an all-volunteer nucleus of friends, family and local landowners working together to create opportunities for local kids to hunt. He pulled this team together in September 2010, and they all started to secure land access, screen guides and plan logistics.
Finding the kids was pretty easy. Crutchfield and friends went to local hunter education classes and asked if anybody needed a place to hunt. They found 25 kids very quickly.
Maryland has a youth deer hunting day—November 12 in 2010, so Crutchfield scheduled the hunt for that date. With a guide lined up for each youngster, and hunting permission granted on local lands, he got the nearby Izaak Walton League club to host a "Meet and Greet" a week before the hunt, so the kids could get to know the guides, practice on the range and do a little pre-hunt scouting. He got NRA to contribute gift bags full of NRA fraternal items, safety literature and a bow to raffle off.
A week later, he and his wife hosted a 5:00 a.m. breakfast for everyone concerned and sent the hunters out to their stands. At mid-morning, everyone returned to the farm that served as "hunting camp." Hananah O'Neil, a high school sophomore, brought in an eight- point buck, her first deer ever. The midday break kept the kids busy with a barbecue served up by the local 4-H, a fox trapping demonstration, an archery and BB gun range, and a retriever demonstration.
By the end of the afternoon hunt, several other kids brought in deer and everyone, successful or not, was telling stories, laughing, hugging and high-fiving each other.
Before everyone broke up, all the kids were given gift bags and a shed antler with "Young Guns 2010" engraved on the main beam. Crutchfield was then surprised when he and his wife, Terri were presented with a plaque bearing a photo signed by all the kids.
"The crowed cheered and everyone thanked us for putting on the event," Crutchfield said. "It was hard to keep my emotions under control, and I almost completely lost it. The event was successful, not because of me and Terri, but because so many great people volunteered for a common cause and to make a difference, one shot at a time, for hunting and for these kids."
It's important to note that a lot of those national groups are making great headway in getting kids outdoors and into deer stands. NRA is proud to be one of them, especially with well-established programs like the Youth Hunter Education Challenge (YHEC).
And substantial progress is being made in knocking down barriers to youth hunting, through youth mentored hunting laws that NRA and other groups are fighting for.
NRA is helping out with the 2011 Young Guns hunt by donating merchandise for door prizes and raffles, plus NRA Board member Dave Butz will be on hand to talk with the kids. Give a nod, too, to the National Wildlife Turkey Federation, which is providing insurance for the event.
But it's particularly important to highlight individuals like Bill Crutchfield—not only for his tireless personal efforts, but because there are other people like him who would do something similar, with a little guidance. Bill's dream is to get a "Young Guns" effort launched on a major scale, and he has established a "model" that could be followed almost anywhere. Yes, it is time-consuming and requires commitment.
If you want to help Crutchfield reach even more kids this coming season—he's trying for 50–there are plenty of ways that you could contribute.
If you are interested in getting his advice to start something similar in your state, he'd be glad to talk to you. Either way, contact him at: [email protected]
About:
For the most up-to-date information about your hunting rights there's just one source: www.NRAhuntersrights.org.